65% Off Hape Circus Screwballs Were $17 | Now $6 @ Amazon (EXPIRED)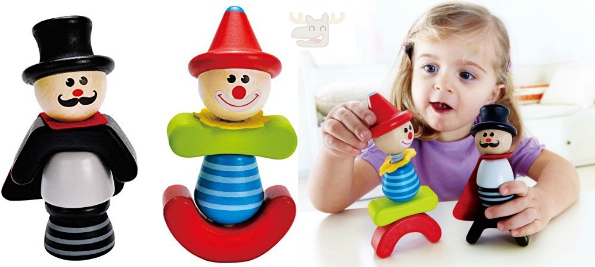 I know we have a lot of Hape fans out there, so I could not resist bringing you another awesome deal on Hape wooden toys. This two-pack of Hape Early Explorer Circus Screwballs Stacking Toys is on sale from $17.99 down to just $6. Receive free shipping with Amazon prime or free shipping on orders of $25 or more.

This stacking toy set comes with all the pieces you need for two circus screwballs. There are eight basic nuts and bolts in four bright colours and shapes. Your child will improve their dexterity and coordination. This toy set also helps your child develop colour recognition, shape recognition, and better motor skills.
You can mix and match the pieces for endless combinations. As per usual, all of Hape's wooden toys are finished with a non-toxic and child safe sealant. This toy is designed for ages two to four, when your child may still be shoving toys in their mouth.

This set looks like a ton of fun for children who like to tear apart things and see how they go back together. Interchange bodies, heads, and more with these stacking toy sets. Made for little hands and little mouths, these toys will bring your child hours of fun.
I could not find this set of stacking circus screwballs anywhere else in Canada. When I looked in the USA, I constantly found them priced around the $15 USD mark. Given that every price I looked at in the USA is more expensive than this price is in Canada, I figured this was a fantastic deal.
Hape deals usually sell out quickly so pounce on this one. We never know when stock will run out or - more common - when Amazon Canada is going to jack up the price. This can happen within hours of us finding a deal!
(Expiry: Unknown)