Walmart Canada: Rollback on PS3 Accessories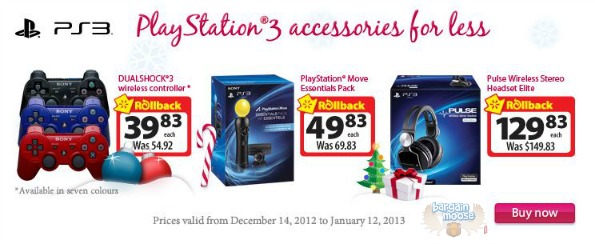 Walmart has some seriously good deals on PS3 accessories. See the above banner for some of those fabulous prices... like controllers on sale for $39.83, originally $54.92.
This PS3 Dualshock3 Controller (Urban Camouflage) is one of many controllers priced at only $39.83. Other colour choices include blue, black, white, red and translucent blue.
The Playstation Move Essentials Pack is reduced to $49.83 and includes the PlayStation Move Motion Controller, the PlayStation Eye Camera and a Demo Disc with over 10 game demos.
We have a PS3 in our house, and have been debating on getting the Move Pack for a long time. Any of our Moosers own one and have any reviews? Would love to hear feedback on the system!
Expiry: 12th January 2013
http://www.thann.ca/favorites/special-promotion-50-off.html