The Bay Canada: Mikasa Daylight China on Clearance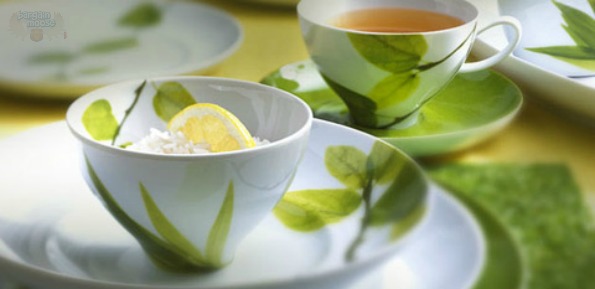 The Bay Canada has discounted the Mikasa Daylight china pieces in their clearance section. If you own the Mikasa Daylight China set or would love to accent your table with some beautiful china, take a look at the sale.
The daylight pattern features leaves in a variety of green hues across a white base. The entire Daylight collection is both microwave and dishwasher safe even though it is made of fine porcelain from Portugal. Gone are the days of hand washing and drying all the china!
The Daylight Oval Vegetable Bowl is discounted from $150 down to just $60. The bowl measures 10.5" long by 7" wide by 2.5" high. Use it for serving vegetables, fruit salads, potatoes, rice, or any dish that is just not right for a plate.
The Daylight Oval Platter is on sale from $150 down to $67.50. While The Bay uses the exact same picture for the bowl and the plate - do not be deceived! They are very different as you can see by their measurements. The plate measures 15.75" by L 7.79 wide by 1.49" high. The plate is a lot bigger that the bowl and is not quite as high on the sides.
The Daylight Tea Server is also on sale from $200 down to $120. This pretty teapot can hold 50 oz (6.25 cups) of tea. It is also dishwasher safe for convenient cleaning. If you pick up the teapot, you must pick up the matching Daylight Sugar And Creamer which were $120 and are now only $48. The sugar comes with a lid (thus a 3-piece set) and they feature different leaves in the same green hues. Purchased together, you would be spending $168 and saving $152.
Last but not least are these really cute Daylight Rice Bowls (pictured above) that were $30 and are now $12 apiece. The rice bowl holds 10 oz., which is equal to 1 1/4 cups. You would probably want to buy these in pairs. I could also see using them as desert bowls or cereal bowls, as most cereal servings are a cup or less. I prefer my cereal in a deeper bowl as it makes it easier to drink the milk after and there is less risk of spilling.
What do you think of this design? Would you add it to your dishes?
If you pay with a HBC card, then you will receive free shipping on orders of $49 or more. Any other payment form will receive free shipping on orders of $99 or more.
(Expiry: unknown)