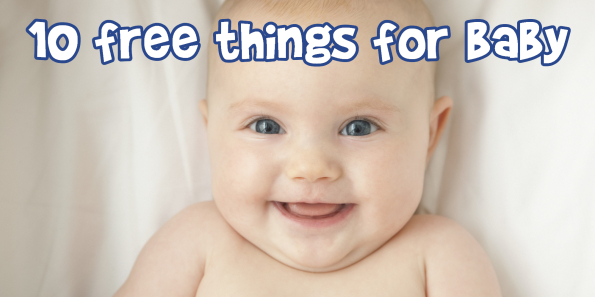 The most expensive aspect of your life is going to be babies. Babies need diapers, babies need formula, and babies even need a whole array of accessories that I had never even heard of until I was pregnant. I am sure any of us who have children know that the money we put into baby items can accumulate to thousands of dollars in absolutely no time. That is why it is so important to keep your eyes peeled for free items for both baby and mom. Many new moms won't know about these things being available for free, so I have made it my duty to put together a list of items that baby and mama can get at absolutely no cost.
Sign up for the Nestle Baby Canada Program to receive up to $130 in free items and coupons for both baby & mama. Thanks to Nestle we got our hands on lots of cool items for free like a diaper bag, formula, Lansinoh cream and more. The diaper bag was great for my significant other. It carried everything he needed for baby and it didn't even look girly. Three years later, we still use it! The Nestle Baby Canada Program includes the following items:
An infant formula sample
Infant nutrition samples
Stylish diaper bag with change pad
Coupons for Materna and other products
Materna Vitamins
Baby bottle
The Nestlé Start Healthy, Stay Healthy Baby Feeding Guide
Customized emails with tips, online tools, and videos
Enfamil Family Beginnings Freebie Program for Canadians
This Enfamil Family Beginnings Freebies Program is very similar to the Nestle offer mentioned above, but the more freebies the merrier.. right? This program seems to change up more often and offers between $160 and $300 worth of freebies and coupons depending on the time of year you sign up.
Heinz Baby Club's Free Nutrition Kit
Join the Heinz Baby Club today and enjoy the benefits! Register now to receive monthly emails with giveaways, helpful nutritional information, recipes that your little one will love, healthy meal planners, exclusive free trials of lots of new products, and lots of coupons with wonderful savings on a variety of Heinz products that are great for your infant. Here is what is included in the Heinz Baby Club's Free Nutrition Kit:
Product samples of formula and cereal
Coupons
Nutrition Guide
Food Journal
Shopping List
Growth Chart
Reusable Shopping Bag
Similac Formula Sample & Welcome Package
Register now for the Similac Club and you will get up to $120 in free gifts. You will get free Similac samples, free Similac rebate cheques, and free pamphlets regarding your baby's development. I personally used Enfamil when I did need to change my son over to formula, but my friends and I all ordered these free samples and traded so we each got lots of the type of formula we were using.
Pampers Gifts To Grow Rewards Points
Start collecting points now, even if you are just expecting. There are so many free points codes that come out that you could have several hundred points racked up before you even go in for delivery. Otherwise you can get oodles of points with every diaper purchase. We add several freebie points codes every month in our expansive Bargainmoose forum, so be sure to sign up there for email updates so you don't miss your opportunity for any free points. You can later use these points to get free items like photo gifts, gift cards, toy for your tot and so much more.
Bargainmoose Exclusive Free Udder Cover
If you are planning on breast feeding, then you might enjoy having an Udder Cover. I had one for family events and such, and I loved it. I am a little shy so I didn't really want to boast my ta-ta's everywhere while breast feeding. But at least this way my baby still got all of the beautiful nutrients, and I didn't have to show off more than I wanted to. There is a coupon code for this offer:
Coupon Code: UDDERMOOSE
Discount: Free udder cover
All you have to pay is the shipping fee! These Udder Covers would normally cost $45, so you can imagine the thought of a new mom getting one for free. Exciting right? There are a few offers available similar to this one, they are listed below.
Bargainmoose Exclusive Free Baby Carrier
Every baby needs a carrier, but why not get one for free with our exclusive coupon code? Use our Bargainmoose promo code to get a free baby sling from SevenSlings.com. Here's the code:
Coupon Code: SEVENMOOSE
Discount: Free baby carrier
Like the offer above, all you need to pay is the shipping & handling charges.
Bargainmoose Exclusive Free Nursing Pillow
I loved that I was able to breast feed my infant, but man it could get hard on my back and arms. Once I purchased a nursing pillow, all my problems were solved. Well now all your problem can be solved for free thanks to this exclusive Bargainmoose discount voucher to get a free nursing pillow from NursingPillow.com. Here's the code:
Coupon Code: PILLOWMOOSE1
Discount: Free nursing pillow
You will need to cover the shipping charges though.
BreastPads.com happens to have a coupon code available, similar to the three offers below. You can use the code BF14DM at the check out process to get 10 breast pads for totally free - all you have to pay is shipping. I have to say, the only annoying part to breast feeding was constantly having to change the pads in my bra. Before I had my son I never thought to buy breast pads, I had to learn the hard way. Hopefully I get to you before you go in for delivery and have to scramble to get good quality breast pads!
Magnetstreet happens to be giving away 3 free fridge magnets per person as samples. You can select 3 magnets and have them completely customized for free.
So Moosers, do you know of any other free items for mom and baby? Let us know in the comments below.