The Canadian Mint: New Coins with Free Shipping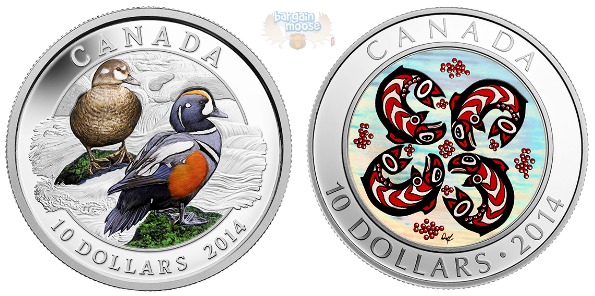 The Canadian Mint has released a whole bunch of beautiful new coins and many of them will ship for free when you buy them directly from the Mint.
Right now, the Mint is offering free shipping on orders of $100 or more, which I have mentioned before, but many of us are not going to shell out $100. We just want a specific coin and not $100 worth of coins. That is where this free shipping on select coins promotion comes in: it is very happy for just buying the coin you want without hitting a minimum.
My husband collects almost anything duck, though he has stopped actively adding to his collection for a while now. However, the duck series of coins that The Mint released last year he gleefully added to his collection and he will be added the new duck coin that was just released. This 1/2 oz. Fine Silver Coin - Harlequin Duck - Mintage: 10,000 (2014) costs $69.95 and matches well with the previous duck oriented coins released. Thankfully, the coin qualifies for free shipping so my husband can order it anytime he pleases without any additional costs. The coin is made of 99.9% silver and positive reviews are starting to come in:
The 4th Coin in the series and it features the Glorious Harlequin Duck. Issued in the same size as the other coins 34mm which could be a little larger, but, yet very collectible. I wished it would also have been issued with a little lower mintage as the series continues on that way the Collectors will want it for their own Personal Collection. Still with it being solid silver it's investment value will increase over time. What can one say other than, "It's a Beautiful Coin". The Engraver at the Royal Canadian Mint picked a very pleasant Scene for a coin.
If your budget is on the lower end of things and you want your coins to have the face value that you pay for them, then be sure to pick up one or both of the $20 coins that are currently available.
Both come with free shipping. You may also want to consider the $50 for $50 Fine Silver Coin - Snowy Owl (2014), which is just a lovely piece put out by the Mint. It also qualifies for free shipping.
(Expiry: Unknown)