Shop.ca: GreenPan Frying Pan Set Only $70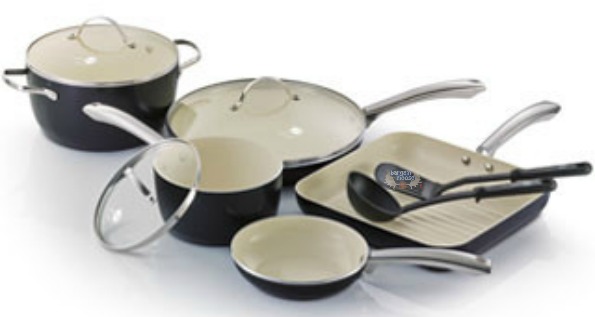 Shop.ca has a hot deal on if you are looking for new fry pans. Get the GreenPan 8" and 9.5" Stockholm frying pan set for only $69.99. It is on sale for $79.99 at Shop.ca, but if you use your exclusive coupon code for another $10 off, you'll get it for $69.99. It will also ship to you for free.
I have GreenPan pans and they work great! I liked them because even though they are non-stick, they don't release toxic fumes like many non-stick pans are known to do. This really started worrying me a few years ago and I threw out all of my pans and bought a set of these, which are still in great condition. The coating on these pans is called Thermolon, which conducts heat better than other traditional coatings, which means your stuff gets nice and crispy. There are other features you can read about on Shop.ca's site so you know all about these pans. What I like to focus on is that they are high-performing and safe pans at a great deal.
When I was price comparing, I found the pans individually selling for about $65-$70 each. In this deal, you get two pans for that price. Also, you'll get a bonus cotton oven mitt with your purchase, worth $10. I could definitely use a new oven mitt as my husband caught ours on fire not too long ago and they are a bit charred.
If you need pans that are a little larger, you can get the 8" and 11" set for $79.99 (after coupon). There is also another set called the Barcelona, which has both sets in that style, although I can't really tell you what the difference is between Barcelona and Stockholm.
If you wanted a whole set, this is also on sale. Get the 10-piece ceramic cookware set now only $189.99 (with coupon), with a regular price of $399.99.
Shipping is always free on orders from Shop.ca, so don't worry about any additional costs on your purchase.
(Expiry: unknown)