Sammydress Funky Accessories – All With Free Canadian Shipping!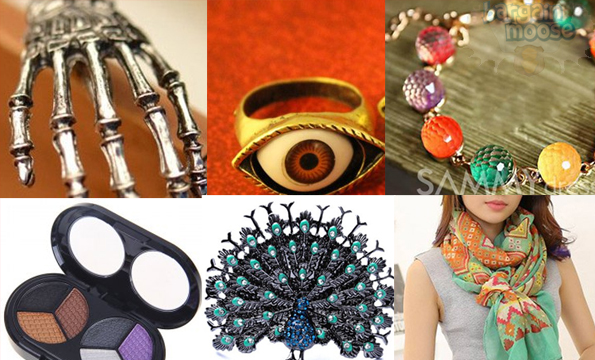 A few weeks ago, Avigayil introduced me to a non-Canadian based site called Sammydress. They're kind of like a huge warehouse full of fashion and accessory items, with really great prices. And what's even sweeter is that they have a section in which everything comes with totally free shipping, no minimum order required!
The free shipping section has loads of items in there, over 167 pages of it. And what is a little bit sweeter too, is that there is a 10% coupon code which also applies as well as the free shipping.
Coupon Code: XMAS2014
Discount: 10% off any order
Expires: 26th December 2014
I just want to highlight a few items with free shipping that caught my eye.
I've pictured this item to the top left – isn't it funky! I'd wear this hairpin myself, and not just on Halloween. You could wear this hairpin any time of year.
Would you wear this ring? It's a little freaky! It's a great budget piece of costume jewellery though. I've pictured it in the top middle.
And the candy bracelet is pictured at the top right. I really love the colour scheme on this one.
(In the image above, bottom left) This looks like quite a good colour scheme for eye shadow, these are really my colours. I love the deep purple.
This one is pictured above, bottom middle. Would you wear it?
Lastly, this one is pictured at the bottom left in the image above. Very pretty scarf and it's a steal for just over five bucks!
There really are so many cute little items on there, it's worth a browse.
Regarding customs and duties, as long as your order is under $20CA, you don't have to worry about any extra fees. I am not 100% sure that if you order now, you will get your items in time for Christmas – I wouldn't bank on that.
(Expiry: unknown)