Roots Canada: Up to 50% Off & Extra 20% Off Sale & Free Shipping No Minimum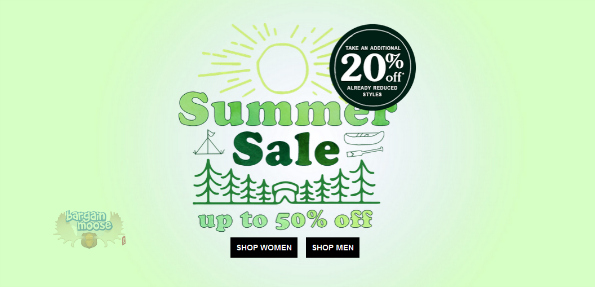 We are pleased as punch to bring you this deal from an iconic Canadian company: Roots Canada. The Roots Summer Sale just started with up to 50% off clothing, leather goods, accessories, and more. Most of the sale items also qualify for an additional 20% off at checkout. This deal is sweetened by free shipping with no minimum (usually $50 minimum) for a limited time only.
Women
There are so many great deals with this combination of discounts! I first picked out this Jersey Tank (graphic) on sale from $14.95 down to $9.99. After adding it to my cart, the price came is only $7.99. This $8 shirt also qualifies for free shirt, thus I could just buy this shirt and checkout. There are a couple other shirts that have been discounted from $14.95 down to $9.99 and will only cost you $7.99:
I have been looking for a new hoodie - not that I really need one but the desire is there. This Piper Jacket caught my eye because it reminds me of a Lululemon hoodie with the scuba style neckline. Originally $110 and is now on sale for $64.99. With the additional discount at checkout, this jacket comes down to $51.99.
Men
I think the men's section may have better deals. This Thurlow Cardigan is on sale from $88 down to $39.98. Already, that is over 50% off in this 'up to 50% off' sale. Once you add this cardigan to your cart, it comes down to $31.98. Sizes extra-small, small, and large are still available.
Next, this Rockland Henley is on sale for over 50% off as well before the extra 20% discount. Even better, all sizes from XS through XXL are still in stock! Originally $58.00, the henley long-sleeved shirt is now on sale for $26.98. With an extra 20% off, pay just $21.58. The shirt comes in a black mix (looks navy) and a dark olive green mix as well.
Kids
The discounts are good all around with The Stella Floral Crop Sweatpant (2 colours) on sale from $30 down to $15.87, which comes down to $12.69 in your cart. Match the sweatpants with the Stella Floral Sweat Top originally $28 and now just $11.89 after all discounts. The Maya Seamed Jegging is another good option as it is already 50% off. Originally $20, just pay $7.89.
There are plenty more deals in the sale section so take advantage of this trio of office to score some great buys! If you do, then let us know in a comment below what you got!
(Expiry: unknown)