Costco Canada: Nikon D3100 14.2 MP DSLR Camera Bundle Only $449.99 Delivered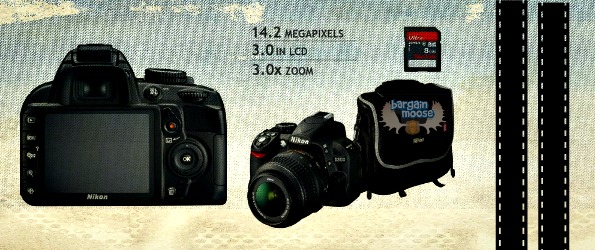 Costco Canada has a great deal on a Nikon D3100 14.2 MP DSLR camera bundle for only $449.99 including shipping. This camera sells for at least $20 more at competitor stores for just the camera alone.
I really need a new DSLR camera. I love photography and fancy myself as an amateur professional. I think I'm awesome at composition and capturing those raw, emotional shots, but the technical always trips me up. Once I get my brain back (aka, when all my kids start attending full-time school and I sleep through the night, so maybe never) I am going to sit down and take a photography course and really learn to use my camera. But, I've had my camera for almost eight years now and in DSLR years, that is quite a few. My photos are not as crisp and clear as my friend with the new camera and it is simply because of the new technology in the camera. I have a Nikon and I love it. I find it the best for capturing portraits and landscapes and close-up shots. I used to have a telephoto lens, which was great for when my kids were doing things that I didn't want them seeing me see them doing. But, I took it to the beach to get those great splashing in the waves photos and sand got into and wrecked it. Poor me. Anyway, my excuse to get a new camera was that I could probably get so much more than I could by just replacing the lens. My camera is simply a photo machine and now many of them let you do movies too, just like this one from Costco.
It also has a learn-as-you-grow guide mode, which is perfect for the technically inept like me.
Here are some of the features of this camera:
F-S DX NIKKOR 18-55mm f/3.5-5.6G VR lens (3x Optical Zoom, Optical Image Stabilization)
Effective Pixels: 14.2-megapixel DX-Format CMOS Sensor
LCD Monitor: 3.0" diagonal (230,000 dots) TFT-LCD with brightness adjustment
Motion Video Quality: 1080p (1920x1080 24fps), 720p (1280x720 30fps, 25fps, 24fps), 640x424 24fps
Top Shooting Rate: Up to 3 frames per second at full resolution
Shutter Speed: 1/4000 to 30 sec. in steps of 1/3 EV
Dust Sensor Cleaning Unit: Image sensor cleaning, Airflow Control System, Image Dust Off reference data (optional Capture NX 2 software required)
In-Camera Image Editing: Trim, D-Lighting, Image Overlay, Filter Effects, Small Pic, Monochrome, Colour Balance, NEF (RAW) Processing, Quick retouch, Straighten, Distortion Control, Fisheye, Red-eye Correction, Perspective Control, Colour Outline, Edit Movie, Miniature Effect
Not only do you get the camera body with this package, you get the lens, gadget bag, 8GB SD class 6 card, rechargeable Li-ion battery, battery charger, camera strap and a ViewNX 2 CD-Rom.
The reviews are also great on this item.
Shipping is free.
(Expiry: Unknown but I find with Costco, if you want something, get it or it will be gone)