Costco Canada: $65 Off Estratto Water Cooler/Single Serve Coffee Maker & Free Shipping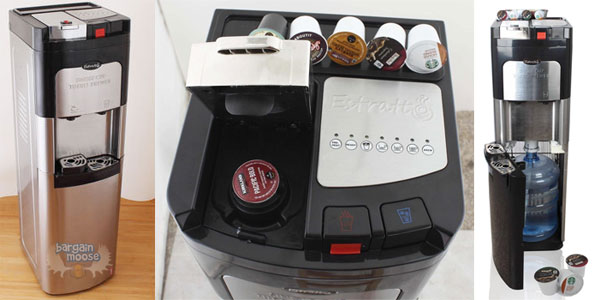 Get the convenience of a water cooler and coffee maker rolled into one with the Estratto bottom loading stainless water cooler with single serve coffee maker. It's currently on sale for just $274.99  (reg. $339.99) at Costco.
Whenever friends and family come over, I always feel a little iffy about offering them water from the tap. My hubby and I regularly drink from the tap but I'm not as comfortable offering and always find myself apologizing for not having bottled water. A water cooler would certainly make things easier and this one would give the option of either water or coffee. I'm a huge coffee addict and already have a Keurig brewer, but this water cooler would definitely help to clear up valuable counter space as well.
The water cooler part of the machine uses 19L water bottles and can make up to 6L of cool water every hour. Not only is this a more eco-friendly way of drinking bottled water, but it's cheaper and much easier than having to constantly stock up on bottles too. My household goes through dozens of bottles every week and it definitely amounts to a lot of wasted plastic, money and time spent buying it.
Surprisingly, the coffee maker actually features five cup sizes, from a small 4oz size to a large one perfect for a travel mug. Although according to reviews, the tray isn't big or deep enough for a travel mug, but you could just hold your cup while it pours or use a larger cup to pour it into before transferring it. The coffee maker also only uses K-Cups, but I find these are much more convenient than waiting for coffee to brew the old-fashioned way. Plus, each cup of coffee always tastes the same and you can stock up on plenty of different flavours.
Although there are no reviews on Costco for this machine, there are a couple of mixed ones on Amazon.ca. It would seem that people either love or hate it. While one reviewer commented that the heater coil broke after a week, another posted the following five star out of five review:
We use a water cooler for drinking water...so, when I saw this with not only the bottom load for water jug, but also a built in single serve coffee maker...I was ecstatic!
Although it's on sale for $349.97 (reg. $379.99) on Amazon.ca, Costco's current and usual prices are still better deals.
As usual, Costco also offers absolutely free shipping.
(Expiry: 27th July 2014)