Apple Canada: Refurbished iPads & Apple TV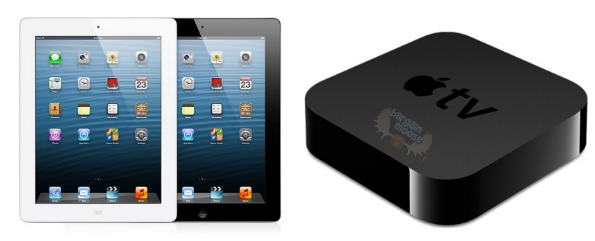 Apple Canada now has a bunch of Apple TVs and iPads on sale in the refurbished section. As all refurbished items come with a one-year warranty and free shipping, this is a great way to get your hands on Apple equipment at a discount.
First off I must wax poetic on the Apple TV. The regular Apple TV costs $109 and I hear it is worth every penny. Apple has recently restocked their refurbished Apple TVs that retails for just $85 with free shipping. You are saving $24 on the device that gives you access to iTunes on your HDTV and allows you to both rent and buy movies from the iTunes store. Now, if you have other devices like an iPhone or an iPad, the Apple TV also lets you wirelessly stream content from those iOS devices to your TV. Also, any movies you buy or rent on the Apple TV can be watched on any iOS device, your Mac, or your PC thanks to the iCloud.
The big debate it seems is whether Netflix or the Apple TV is better. I hear that iTunes has the better database of movies with more variety and you get new movies sooner. However, Netflix does not require you to buy a box to run and with a subscription service, you are not paying per rental. Any thoughts?
Also in the refurbished section you will find this Refurbished iPad with Retina display Wi-Fi 32GB - Black (4th generation) and the same device in white. These big boys were originally $599, but in the refurbished section they cost just $419. My 16GB iPad just does not cut it, the 32 GB model would be much nicer. In fact, my iPad is getting old now and certainly showing its age. I plan to replace it soon and will certainly be keeping an eye on the refurbished section for my next purchase as I refuse to pay full price.
All refurbished iPads come with the same one year warranty as new iPads do. They also have a new battery so you are not getting a battery that is already loosing life. The outer shell is also new so your iPad will come devoid of any scratches or cosmetic imperfections.
For these reasons, I have always loved buying refurbished. It is essentially the same as buying new; they have just had a little extra time to work out any kinks in the product.
(Expiry: unknown)