Today Only! Safety 1st OnBoard 35 Car Seat Was $162 | Now $80 & Free Shipping @ Best Buy Canada **BUMP**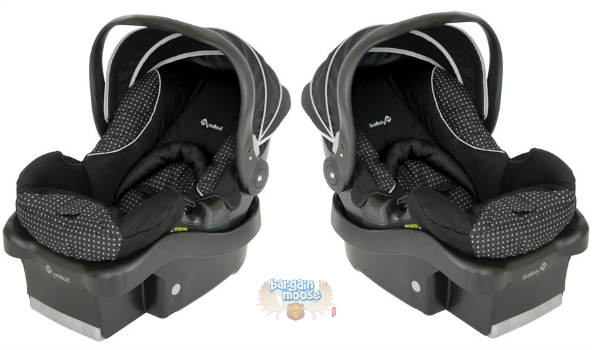 *Bumping as this deal is back on again for today only. Grab one before it is gone!
Best Buy has a great sale price today on the Safety 1st OnBoard 35 Infant Car Seat. This seat was $161.99 but is now on sale for $79.99, today only. You will also receive free shipping with this purchase as it meets the minimum requirement of $25.
Best Buy is really pushing their home, baby and beauty line with some great deals lately. This Safety 1st infant car seat is no exception. Before my kid was born, I fretted over what car seat was safest. In the end while not all car seats not created equal, the technology of the leading companies is similar overall. Safety 1st is a known brand that provides many products focused on keeping babies and small children safe.
This particular car seat seems to have been available in many different colours for the seat cover. It is a basic model that seems to be comparable to the Graco Snugride. This seat does work for preemies, which not all seats do. On the low end of the weight limit, this seat will accommodate a baby who weighs as little as 4 lbs. They also note that this seat comes with more legroom than most. If your family is on the tall side, this might be what you need. This seat easily clicks in and out of the base, allowing you to transport your infant easily when they fall asleep in the car. You will also have a one-year warranty on the parts for this seat.
This car seat comes in several different patterns and variations. Other than the pattern on the car seat, cover there does not seem to be many differences comparing the specs side by side. Here is what I found from some of the other retailers.
There are three recent reviews on Best Buy's website. I noticed the reviews have a higher rating and more reviews at some of the competing retailers. One user noted that the seat is not new on the market, so her car seat expiration was four years instead of six years. I think the only way you can get around that is buying a new seat that is newer on the market. The safety regulations do change quickly, and car seat expirations do not last long to ensure your baby is in the safest seat possible. Here is a happy reviewer.
I have compared many types and brands for my babies car seat, and nothing beats the quality and price of this particular one. I have recommended it to everyone.
If you need a new infant seat, this is a sure bet. You are getting a quality brand car seat that will keep your bundle safe plus a few extra features such as the extra legroom. At this price, it also makes a great second car seat for grandma's car.
(Expiry: 22nd June 2015)