Best Buy & Future Shop Canada: Baby Bjorn Active Front Carrier Was $180 | Now $80 (EXPIRED)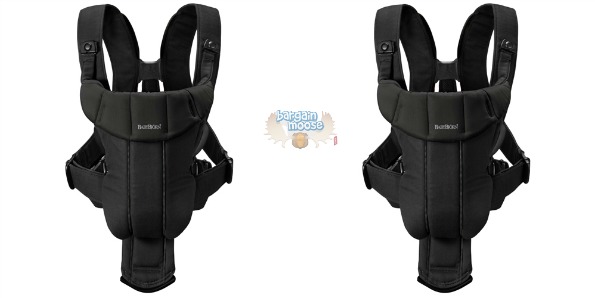 Best Buy and Future Shop have an excellent sale on that ends today on the Baby Bjorn active front carrier. You'll save $100 on this carrier and pay only $79.99 and get free shipping from either store.
If you are a new mom or expecting, you need to know how helpful a baby carrier is. I had a Baby Bjorn and my little ones lived in there for months. It was especially helpful once I had more than one baby and needed my hands, you know, to stop the toddler from drawing on walls, change a diaper, make lunch and all those fun things that moms do. But, this isn't just limited to mom, dad can wear this any time he (or mom) chooses.
I especially found it happy for grocery shopping when baby did not want to sit in a bumpy cart in his car seat. He loved looking around the store as I shopped and getting ogled at by all the ladies.
You can use it from birth, when baby would go in facing you, and when they get older, you can turn them around.
I shopped around and found the organic active carrier selling for $189 at Snuggle Bugz. At Amazon it is $131.94 from a secondary seller. Sears has the classic (a cheaper model) on for $119. This means Future Shop and Best Buy have the absolute best price on this carrier.
I found a very positive review on Amazon.com:
I registered for and eventually purchased for myself the Active Carrier. I love this carrier. With a bad back, I find the lumbar support VERY helpful. I do have to tighten it up, but is far from cutting off my breathing. My little girl loves riding in it too. She usually falls asleep within minutes of me putting her in it.
The negative reviews were that it did hurt the back, but I have to say, I have a bad back and it didn't bother me until my babies got to be over 20lbs, and even then, as long as I kept my posture intact, I could wear it for long periods. Lets face it - it felt good to take it off, but it is a much nicer way to carry them than on your hip - that spells nothing but trouble - believe me.
(Expiry: 11th December 2014)