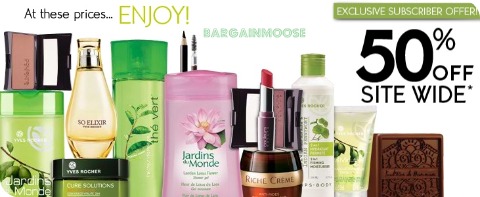 Yves Rocher has a whole bunch going on right now: 50% off site wide (with a few exclusions) a whole bunch of up to 70% off liquidations and free shipping on orders of $25+. They are giving away free mugs with every purchase!
One of the products I have been debating on for a while is in the liquidation section, hey... who said procrastination doesn't pay (or in this case save). It is called Flat Abs and was originally $42, now only $15.
This Innovative formula works instantly like an invisible girdle. Its "cosmetic sheathing" action instantly improves tone and texture of the stomach. Redefine the look of the stomach contours for a slimmer, firmer looking mid-section.
I could probably get the same result from 200 crunches a day... but I just don't seem to find the time. Which leaves me wondering if this might just help out a bit.