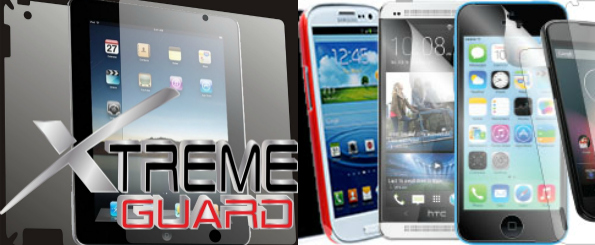 We like extreme deals and there is nothing more extreme than a coupon code for 91% off everything at XtrmeGuard for Boxing Day. Purchase earbuds, phone cases, screen protectors, and more during this super sale. Do note that all prices are in USD and they ship in from the USA.
Click here to shop the Boxing Day deal @ XtremeGuard now
Coupon Code: CR91OFF
Discount: 91% off
Expiry: Unknown
You seriously cannot stock up on smart phone accessories cheaper anywhere else. I decided to pick up a nice accessory bundle for my friend's new Nexus 6. I chose four accessories. First, the Motorola Nexus 6 Screen Protectorruns the average price of most screen protectors - $7.99. Then, I added on the Motorola Nexus 6 Matte Black Slim Deluxx Case for $39.99. It is nice to be able to change up your case once in a while.
I also threw in two accessories that could go with any phone. The SmartPhone/Tablet KickStand by XtremeGuard is a cool little accessory currently retailing for $29.99. I think the original price is a bit over-priced, but I have seen similar units around the $15 to $20 range.
I also added on this Gold Series Pencil Stylus by XtremeGuard that retails for $24.99. I find these super useful for browsing the internet.
All four of the above items came down to $8.24 in my cart when I applied the coupon code.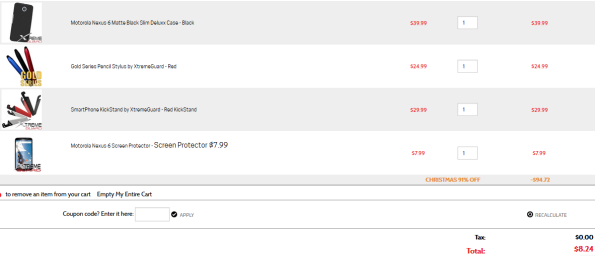 You might be fretting your pretty little head over shipping costs - but you need not worry. I put in my address and got three shipping options, with the cheapest shipping just $1.95 for my order. In total, I will be forking out just over $10 for four awesome accessories that would cost me oodles more anywhere else.
If you have the new iPhone 6S, iPhone 6S Plus, or any other iPhone - you can find accessories for them here. For the new iPhone 6s Plus, try the XtremeGuard Imperial Case for iPhone 6S Plus 5.5"at $59.99. After coupon code, pay just $5.34. There are other cases, screen protectors, and more you can purchase for the iPhones.
I know that some of these items tend to be a bit overpriced when you look at their original prices. However, you simply will not find these items for any cheaper after coupon code. The cheapest cases I could find for the Nexus 6 were around $10, and now I will be getting a case, a stylus, a screen protector, and a stand for the same price I would (and did) pay for one case.