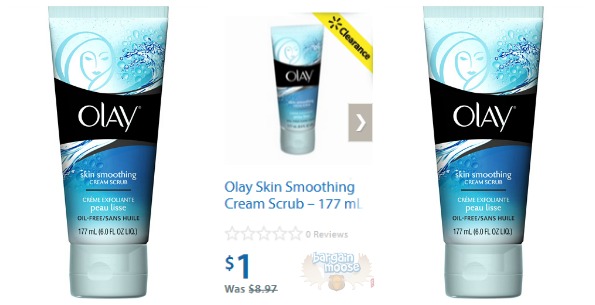 Walmart Canada has some really beautiful deals in their clearance section. I ran across a bottle of Olay Skin Smoothing Cream Scrub on sale from $8.97 down to $1 with free shipping!
I love deals like this - who ever thought there would be dollar deals online with free shipping? It must cost Walmart Canada a small fortune in shipping costs - but buyers really get to profit from such deals. The Olay Skin Smoothing Cream Scrub comes in a 177 ml bottle. It is an oil free formula designed to smooth your skin - leaving it brightened and clean.
Olay has a description for the cream on their website:
A conditioning beta-hydroxy formula with microbeads cleanses skin deeply while gently exfoliating to rejuvenate skin, leaving it radiant and noticeably smooth.
I have not used Olay products ever, but my Mom uses them. I might buy this and mail it away to my Mom as a small surprise. I do not know about you, but I love receiving random gifts in the mail that I really did not expect.
Now, there are a few other deals I would be remiss not to mention. ThisL'Oréal Hair Expertise Re-Nutritionis on sale from $8.96 down to $2 with free shipping. This shampoo is formulated with Royal Jelly and is great for restoring moisture and shine to your hair.
I also found this box of Nice'n'Easy Perfect 10 hair dye on sale from $13.96 down to $2 in lightest cool brown. The other colour still available is full price. I have never died my hair, but I figure $2 is a great price if you are experimenting with a new colour. Light brown looks really good on many different skin tones. I have dark, sandy blond hair that looks brown when wet.
I really like deals that are so cheap it seems a crime not to purchase them. While the hair dye might not be for everyone, almost anyone (male or female) can use the smoothing skin scrub and the shampoo. Pick up a few bottles for yourself or send a few to family members in need. You could even buy a bunch to donate to your local shelter. Shampoo would especially be popular.
(Expiry: Unknown)