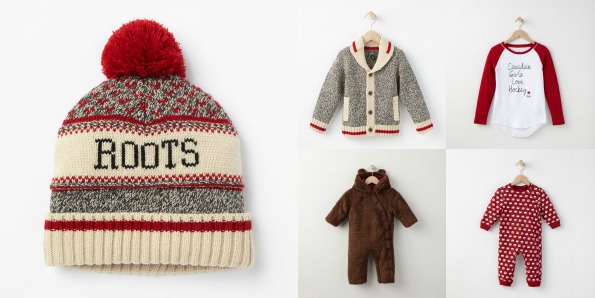 Today only you've got the chance to get 25% off everything at Roots with our exclusive coupon code! This includes sale and regular priced items, which means that it is a perfect time for getting your cozy winter outfits and a few Christmas gifts.
Click here to shop @ Roots.com/ca now
Coupon Code: MOOSECAE
Discount: 25% off
Expiry: 21st October 2015
Roots definitely have their fans in Canada and I think it could be said to be iconic cottage wear. Besides their comfies though, they've got some fashionable items for kids, men and women. Their sale section is also fully stocked and ready for you to get another 25% off.
I of course hit up the kids sale section first, since the kids get everything! But really, they need the clothes more than I do since they grow so fast. Once you add the coupon code to your cart, it makes it so much easier to see the final price, as they include it right on the shopping pages, so you don't have to go to your cart and see what it will be.
There is a huge selection of Roots t-shirtsthat are regularly $18 and on sale for $11.88. After coupon code, those t-shirts come right down to $8.91.
The toddler section has some really cute stuff, including the iconic Roots sweatshirt. This Jacob top in grey and white or as they call it "navy pepper" is too cute for words. It sells regularly for $26 and is on sale for $20.88. After the coupon discount comes off, you'll pay only $15.66.
Once I was done shopping for the kids, I did have to see if there was anything I'd love. This highwood funnel top looks mega comfortable and a great throw-over for when I need to run out of the house quickly, but don't want to look that way. Regularly $78, on sale for $54.99, after the coupon, that price drops down to $41.24.
I was so excited to see the Blue Jays collection because my husband is quite the fan lately. Unfortunately, the coupon doesn't work on this collection. But, if you wanted to get something from it to get your total up to the $50 for free shipping, that might help. Otherwise, there are lots of other nice items that are included with this coupon. Usually leather isn't included with Roots coupons, but I do see that it is here. A leather Roots bag could make a fabulous gift!