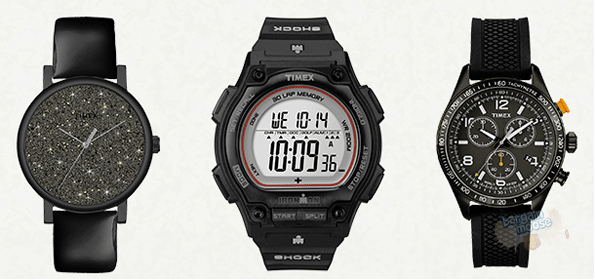 Anyone need a new watch? Or perhaps thinking of buying one for someone as a gift (perhaps for Father's Day)? Hit up Timex.ca just now, as there's a pretty good deal happening, as well as a signup coupon code. There's a sale section with 50% off and what's even sweeter, is that you can sign up for their email updates and instantly get a 15% coupon code too.
There are around 80 watches to choose from in this Timex.ca sale, with a mix of women's and men's watches. Prices on the sale watches seem to start around $25 (or $21.25).
Getting a 15% Signup Coupon
There's a box at the bottom right of the Timex site which asks you to sign up to email updates. If you sign up there, you WON'T get a free 15% coupon code. However, when you first click through to the above site, click around a bit and you will get a popup offer. This will state that you can get a 15% coupon code by signing up to email updates. Using two different email addresses that I got through 10minutemail, I tested both signup methods and I only got a 15% coupon code when signing up on the popup screen. When you do this, you'll get a promo code for 15% discount that expires in 14 days from signup.
Watch Examples
Here are a few examples of the prices I see with the 50% sale and the extra 15% coupon code applied too:
Men's
Women's
Free Shipping on $75+
If you want to take advantage of the Timex free shipping option, you will have to spend at least $75 on their site. All orders above this level will get free shipping to your home. If you spend less than this amount, shipping is only $4.50 anyway. That's not so steep.
When we got an email newsletter about this deal, Timex were advertising a 10% coupon code on top of the 50% sale items; the code was ONLINE10 (expires 29th May 2015). Their email was titled up to 60% off… but someone at Timex doesn't know how to do math! 50% sale items plus a 10% coupon code means a 55% discount on the original prices, not 60%. Heh. The pedant in me has emailed them and told them so… :)
(Expires: Unknown)