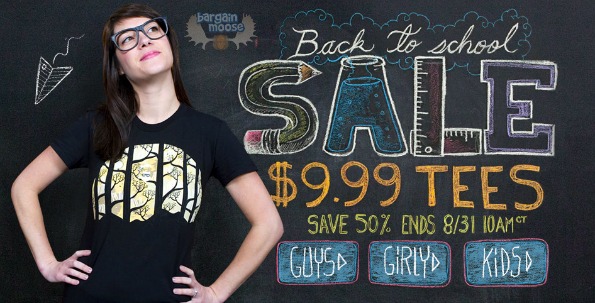 Threadless is have a great back to school sale with 50% off tees and up to 50% off hoodies. They also have their Select line (made organic) on sale for 40% off. Tees are just $9.99 each!
Threadless is US but they ship to Canada and I have never incurred duties when purchasing through them. I recently picked up this awesome A Butterfly Effect hoodie, was $49.99 | Now $24.95. It is so soft and it fit perfectly.
However, I totally want the Saturntable short or hoodie! It is a rocking image and the hoodie Was $49.99, is now on sale for $29.99 and the tee is only $9.99, originally was $20. The hoodie would be my style.
I also think this Squinjas! is totally adorable. I actually hate crew neck tees so am delighted to see this is a boat neck. Was $24.95 | Now $9.95. However, even higher on my OMG I want list is Water Balloons. Was $24 and now $12.99 this tee totally speaks to my love of water!
Expiry: 31st, August 2012