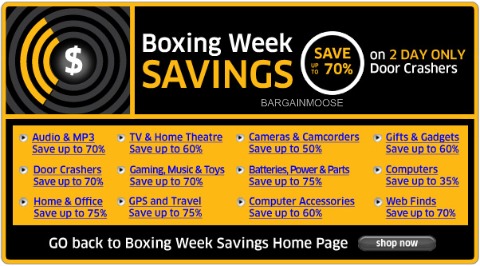 The Source is in full Boxing Day Sale swing and has released more doorcrashers, for Dec 26 and 27 only. These include some very nice discounts on TVs.
Most notable is your choice between a Sony or a Samsung 32" HDTV for only $349.99 each. You save $180 on each! They have a bunch more TVs, so check them out.
They also have a BELKIN G-WIRELESS CABLE/DSL ROUTER originally $50 down to $20.
Though not a huge discount ($20 off), I am surprised this Creative Labs Sound Blaster World of Warcraft USB Wireless headset hasen't sold out already, WOW is soooo popular. Usually $179.99, down to $159.99. That deal is on till Dec 31, where the rest are for today and tomorrow only!
PLENTY of amazing deals at the Source, see the banner to get an idea of the extent of their boxing day deals!