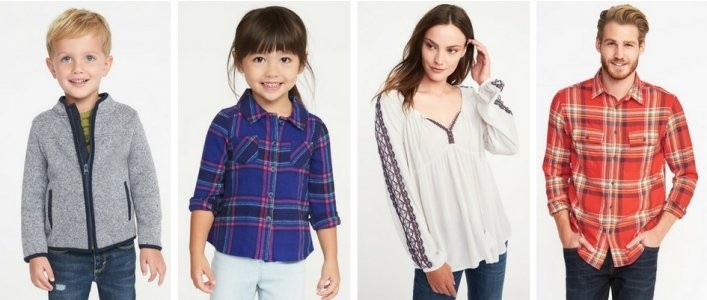 Boxing Day lasts all week long at Old Navy! We're predicting up to 60% off storewide for Old Navy's Boxing Day 2017 sale. Last year, we saw an extra 50% off all clearance (discount applied in cart), too, so we're crossing our fingers to see more of the same there, too.
We recommend that folks let loose, because sales like this only come once a year! Also: there usually a BONUS code to get an additional 25% off select items (online only though).
Last year, the deals on kids clothes started as low as $1.51 with these extra discounts. Here are some of our favourite deals from Old Navy's Boxing Day from 2016:
Frost Free Hooded Jacket For Girls for $9.49 (was $64.94)
Brushed Military Style Peacoat For Girls for $18.99 (was $59.94)
Relaxed French Terry Pullover For Girls for $5.99 (was $19.94)
Fitted Crew Neck Tee For Girls for $1.99 (was $12.94)
Plaid Flannel Shirt for Girls for $5.52 (was $29.94)
Printed Jersey Leggings for Girls for $1.51 (was $10.94)
Get free shipping on orders over $50.
Previous Old Navy Boxing Day Sales
26 December 2016: Gap Boxing Day Sale 2016!
The Old Navy Boxing Day sale this year consisted of up to 60% off store-wide. There was an additional code for a further 25% discount, and items started at just $1.51!
25 December 2015: Old Navy Boxing Day Sales NOW On: Save up to 60% off site-wide!
This week, the Old Navy Boxing Day sales had started just before Christmas, and there was up to 60% off across the site. Deals were available for kids, as well as men and women.
30 December 2012: Old Navy Canada: Boxing Week Blowout – Up To 50% Off
You could have saved up to 50% off this week, at Old Navy. Deals on outerwear were especially great, with coats and jackets starting from $23.99.
22 December 2011: First Boxing Day Flyers have come rolling in...
The Old Navy flyer came out in mid-December and contained lots of Boxing Day deals. There was up to 50% off clothing and accessories.
25 December 2010: Old Navy Boxing Week Sale
During Boxing Week in 2010, Old Navy had a massive sale, featuring markdowns across the store. There were tons of items on offer for men and women, including jackets, hoodies, fleeces and more.
23 December 2008: The Gap/Old Navy/Banana Republic Boxing Day Sales Announced!
This year, Old Navy offered up to 60% discount for Boxing Week, through to the 1st of January. In addition, there were a number of doorbuster deals in-store, only on the 28th of December.