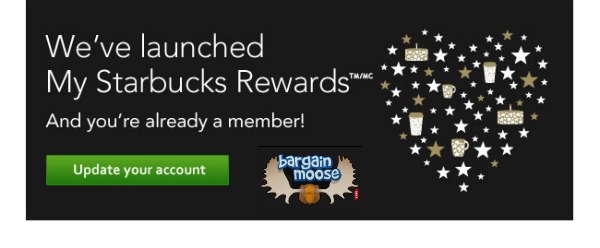 Starbucks has launched a new, free Rewards Program in Canada. My Starbucks Rewards is a program that rewards customers for visiting Starbucks.
To join My Starbucks Rewards,  create an account and activate and register at least one Starbucks Card to your account worth $5 or more, either in store on online .
If you already have a registered Starbucks Card that you have used within the last two years and are a current member of Starbucks Card Rewards, you will be automatically enrolled in the Green Level of My Starbucks Rewards and you've probably received an email with program information.
You can earn rewards by using your activated card to pay for your order at Starbucks. You'll get one Star for each visit.
There are three levels in My Starbucks Rewards depending on the number of Stars in your account.
In the first Welcome Level, you'll get a postcard for a free beverage of your choice as a birthday gift. To move up to the second Green Level, you'll have to make 5 visits in one year. The Green level offers everything from the Welcome Level, free beverage customization (free select syrups and soy/lactose free milk), unlimited in store refills on brewed coffee or tea, and free tall beverage of choice when you buy one pound of Whole Bean Starbucks Coffee. You'll also receive special email offers.
After 30 visits in one year, you'll move up to The Gold Level. Here you'll get everything from the Welcome and Green Levels as well as a personalized Starbucks Card, additional offers and coupons through email, and a free drink of choice after 15 additional visits.
If you are a frequent Starbucks visitor, this free program will definitely benefit you. Just for the free birthday drink alone, it's worth buying a $5 Starbucks card!
I'm a little scared to see how many stars I'll reach in one year. Starbucks is definitely somewhere I just can't resist. Love, love, love the Chai Lattes there! Oh, and the frappacinos aren't too bad either :)