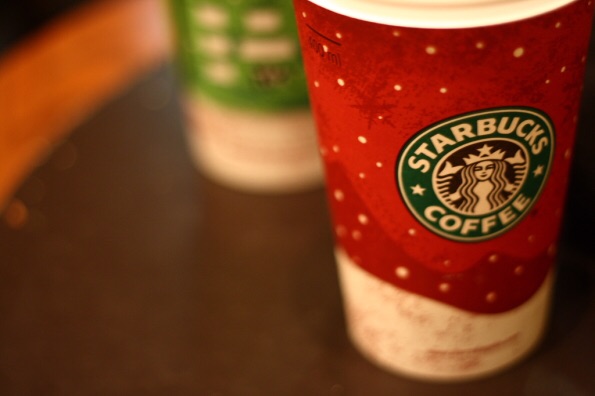 Hey Moosers! I hope your weekend was wonderful. While we sometimes dread rolling into Monday, now we have a reason to look forward to Mondays. Starbucks Canada has brought back their Merry Mondays promotion and if you love Starbucks as much as I do then you will want to head into your favourite location every Monday to enjoy the available discounts and promotions. Each Monday has a different offer in store, and you must be a Starbucks Rewards Member to enjoy them.
So the Merry Monday promotion started at Starbucks last week. Every Monday through December 7th a different promotion will be valid from 2pm until closing time. It may be BOGO offers or free items with your purchase, but they are all definitely worth a visit to Starbucks each Monday. I am already a regular at Starbucks so it is not like I will have to go out of my way to enjoy the discounts.
Here are the Merry Monday discounts you will enjoy at Starbucks Canada every Monday:
Monday, November 16th: Sips With Friends
The first day of this Starbucks promo you will be able to buy a holiday beverage and get the second one for free. They have a few delicious holiday beverages to choose from for sure. Be sure to try the Chestnut Praline Latte - it is delicious. The other two holiday drinks are the Peppermint Mocha and the Caramel Brule Latte.
Monday, November 23rd: Yours to Keep or Share
This Monday will allow you to enjoy a Holiday bakery item for free when you buy any beverage from your local Starbucks. Be sure to try the adorable Snowmen Gingerbread Cookies.
Monday, November 30th: Gifts for Them. Star for You
When you spend $15 at Starbucks Canada on this day, you will earn 8 Bonus Stars!
Monday, December 7th: Here's To Your Fondest Flavours
Visit your local Starbucks Canada on this Monday and you can enjoy half off any Frappuccino Blended Beverage. Try the Strawberries & Cream Frappuccino - it is to die for.
The fine print says that you will need to pay with your registered Starbucks Card or App to enjoy the discount, but chances are you are already a Starbucks Rewards Member if you are reading this. If not, it is super easy (and free) to sign up.
Moosers, what is your favourite drink from Starbucks?
(Expiry: 7th December)
(Photo Credit: Esparta Palma)