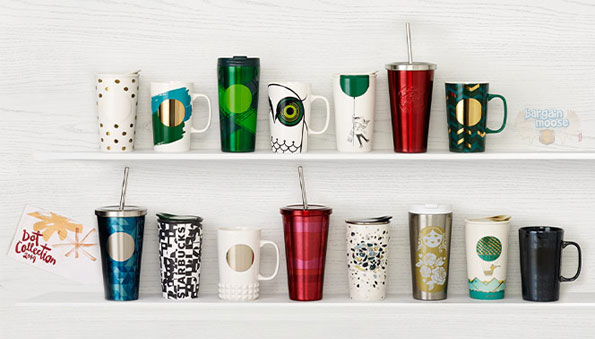 Usually only free on orders over $65, you can now get free shipping at Starbucks if you buy three or more DOT drinkware products. Otherwise, a $4.95 flat shipping rate will apply.
Never heard about Starbucks' Dot collection? It's because it's new! The Dot collection is actually a brand new exclusive line of mugs and tumblers designed by Starbucks artists. According to Stabucks' promotional banner about it, it's "here for the season and ready to gift". It's unclear as to whether it's only here for the season and will be gone once the last snowflake melts but in any case, this promotion is a great way to score a couple of mugs and tumblers and get free shipping.
Earlier, I wrote about the rise in prices at Tim Hortons and mentioned that I would now be making better use of my own tumbler but it looks like Starbucks' sale couldn't have come at a better time. Personally, I only have one tumbler that I rinse out each time but I certainly wouldn't mind having a couple of different ones switch between.
Upon first browsing the selection of Dot products, I spotted quite a few at $21.95 a pop but I found two for half that price. You can get the core green dot mug or the red holiday cup for $9.95 each. With Christmas right around the corner, the red one definitely stood out to me right away, especially with the hype the Starbucks' to-go red cups generate, but it's up to you to decide.
The great part about this promotion is that you could score some cups or tumblers to give as gifts in time for Christmas and then take advantage of the free shipping offer to grab some coffee, tea or anything else that strikes your fancy from Starbucks' wide inventory of products.
According to certain online rumours, most of these DOT tumblers also have a matching gift card as loads of new ones have been added in-stores. However, I had a look at Starbucks' online section for buying gift card and only counted 22 different designs to choose from. So, we'll have to see in the upcoming week if this is just a rumour or if more cards will be added.
(Expiry: 23rd November 2014)