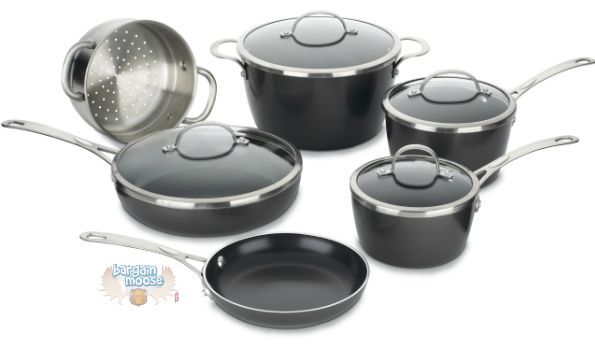 I love it when big retailers slash the price big time on great products. Check out the Cuisinart Greenware Series 10- Piece Cookware Set. This set retails for $360 but is on special today for only $89.99. This is the lowest price that I have ever seen this cookware. This set also meets the minimum to ship free straight to your door.
I usually glaze over most cookware deals, but this deal is too sweet to pass up. This is a full set of cookware that includes lots of extras to help you live healthier. Included in this set is:
Two saucepans
Deep fry pan (I use this type of pan for stir fry)
Dutch oven
Omelette pan
Steamer insert
These pans have a nonstick surface that is ceramic based. This type of service promotes the use of less oil when you are cooking, and also ensures you have a surface to cook on without the added chemicals that regular nonstick pans can leach into your food over time. These pans are aluminum and even the stainless steal handles can be placed in the broiler safe. I also noticed this set has a warranty on parts for 25 years to help you purchase with confidence.
I suspect that this set may have been discontinued and cleared out, as I found a listing for this cookware at several major retailers that were out of stock. The even better news is the price at Best Buy Canada today is beating every single price I see that this cookware is and has been listed for. I did find this cookware set in stock at Kitchen Stuff Plus selling for $174.99. Over at Cookware Canada, I found this set available for $213.37. Amazon Canada has this set listed through several alternative sellers that include free shipping, with the lowest option being $400.
I am not seeing any reviews on this cookware set over here in Canada. I did find multiple reviews over on the US side of the border and most seem happy about the set. Here are one person's thoughts over on Overstock.com.
This cookware is light and truly nonstick. Even when food such as eggs comes off with little effort. Love this cookware.
We have seen several cookware deals in the past few days. First Margarita blogged about a Paderno set at Best Buy Canada that was a one day sale. Then Avigayil blogged about a fantastic Henckels set over at Shop.ca.  While both of these sets are fantastic quality made sets, the price on this deal today is still just a bit cheaper. If you are looking for a set for someone first starting out, a set for your camper, or just want to have an eco-friendly surface to cook on then this is the set you should buy.
(Expiry: 24th July 2015)