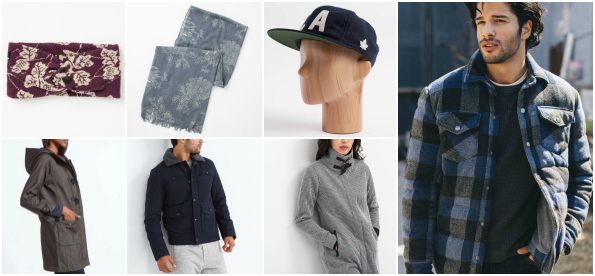 Roots Canada has a pretty nice sale section with plenty of clothing, outerwear, and accessories on sale. With outerwear and accessories up to 40% off right now, Roots Canada is offering an extra 25% off these gems. Final prices are as marked in red.
The extra 25% off accessories and outerwear applies to full-priced items as well, but it is a better deal when you combine the discount with already discounted items. Do note that the product page only shows the sale price and then discounted sale price (with extra 25% off) - not the original price. You will need to look through the sale pages above to see the original price. In the men's section, I picked out two jackets.
The Black Mountain Jacket is an upgraded form of the classic denim jacket. The inside is lined with a flannel lined body to keep you warm. There is also a removable 'berber' collar for a different look. Originally $188, it is now on sale for $149.99. After the extra 25% discount, it comes down to $112.49. You save $75.51 in total.
The Port Cove Puffa Shirt is a thick, quilted jacket made of 51% wool. It will keep you warm and comfortable when the weather starts to chill. Originally $210 and on sale for $159.99, this jacket comes down to $119.99 after the extra discount.
The women's Larch Coat has a clean front with chunk toggles up near the neckline. This jacket is on sale from $138 down to $99.99. After the extra discount, you pay just $74.99. The gorgeous white Gracefield Jacket is on sale for the same.
Accessories are where it is at for me. Keep your ears cozy warm while letting your hair flow freely with this Cordellia Headband. Originally $20 and in sale for $11.99, pay just $8.99 for this headband in black, charcoal mix, or purple. You can always use these as stocking stuffers!
The Lisette Scarf is a great little scarf at a good price. This scarf was originally $40 but went on sale for $29.99. Pay just $22.49 for this chambray blue scarf. Only a few are left in stock. I would also think that this scarf would make a nice Christmas gift as well.
Receive free shipping on orders of $50.
(Expiry: 22nd November 2015)