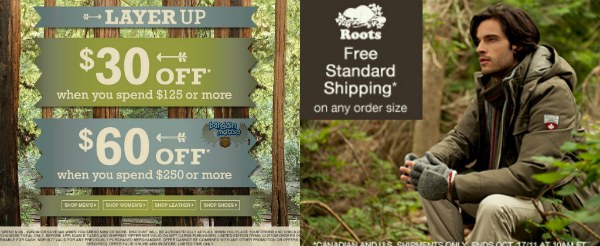 Roots Canada has 2 FANTASTIC promotions going on right now! Get free shipping on ALL orders - no minimum! Also, receive $30 off $125, or $60 off $250 orders, no coupon needed!
So we don't know when the $30 off $125 and $60 off $250 expire. All we know is that they exist and that they automatically come off your cart. They also don't include quite everything:
Exclusions:
Eligible amount calculated on merchandise total only, before applicable taxes and shipping. Offer not valid on gift cards purchased, limited edition items, custom orders or specialty items as marked.
The free shipping is valid through the 17th of October 2011 at 10 am EST.
Very exciting! Some firm discounts from Roots. These discounts work on SALE items.. I checked it out on a cart full of just pure sale items and it worked like a gem.