When I get on my computer on the mornings, I have a certain number of tabs that I load up on my browser, and Facebook is one of them. I usually update the Bargainmoose Facebook page in the mornings, and when I did, I spotted an intriguing status update from Roots Canada. They said:
Buddy the Beaver is hiding somewhere on Roots.com. Find him to get an exclusive offer, just for you.
Well, that being the clickbait that it was, made me instantly click through and start hunting! I clicked around for a few minutes, but I wasn't seeing Buddy anywhere. Sometimes there can be issues with cookies on offers like this, so I tried it in another browser (firefox vs opera). No luck! I finally asked one of the other Moose authors to help me out, and Kristy found the beaver! Here's what she found:
Click here to use the Roots Canada coupon code online now
CouponCode: IFOUNDBUDDYFS
Discount: Free shipping, no minimum
Expires: 14th December 2014
There are quite a few things which you can use this coupon code on, which are below the regular $50 free shipping threshold.
This Jordan PJ set for $30 is incredibly cute! Even though it's for kids, I'd love one myself!
This Forest Fun t-shirt is down to only $9.88. And this particular one is in a multi-buy offer: buy 2 or more and get an additional 25% off that price. That could definitely be worth exploring.  For example, this Sporting Goods T-shirt is $12.88 so adding that to your cart as well, that would trigger the additional 25% discount, as you can see in the screenshot below: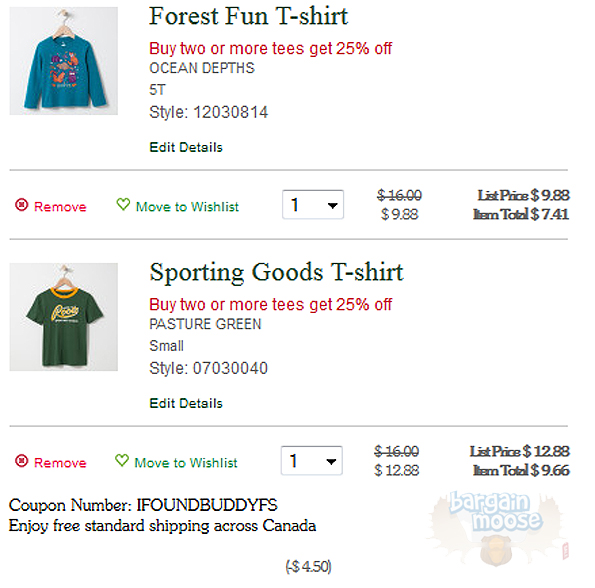 As you can see, you can get both those tees for $17.07 with free shipping! Sizing is a bit limited, so have a good rummage around the sale section to see what you can see.
As for shipping, it's usually only free from Roots Canada when you spend $50 or more, which is an easy minimum threshold to achieve. But this new coupon code means it's easy to place smaller orders without incurring shipping.
Potential Extra Discount: $25 off $100?
I've had an idea about how to get $100 worth of items for $75, but I haven't tested it yet. If you are placing an order on Roots.com, then I recommend you give this a try and tell us in the comments below if it works for you. Roots recently tweeted here about a deal on their gift cards – if you buy a $75 gift card, you get an extra $25 savings pass for you. But I was thinking, what's to stop you buying the $75 gift card for yourself, getting the extra $25 savings pass too and applying them to the same order? Therefore, you're getting $100 worth of items for $75.
Even if this doesn't work, you would have been spending that amount anyway so you're not going to lose anything by giving it a try. Let us know!