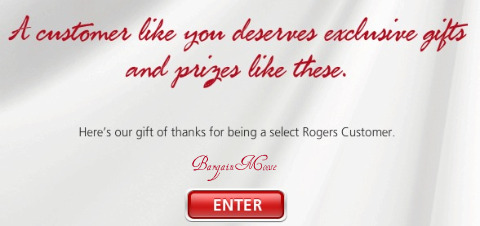 It's Rogers Customer Appreciation time again and if you are a customer of Rogers you can go to the link below, enter in your info, draw an envelope and get a choice of 5 appreciation prizes.
Your gift options are:
5 free song downloads from urMusic
A free 3-6 month magazine subscription (LOULOU, FLARE, CHATELAINE, MACLEANS, TODAYS PARENT)
A new release movie of game rental from Rogers Plus (not valid in Quebec)
1 Free GelaSkins.com code to skin your MP3 Player/Phone ($14.95 USD value + free shipping)
Donate your Gift to United Way/Centraide
The free gifts are open until September 30, 2010
So those of you who are Rogers customers, awesome! What about those of us who aren't?
Well: fortunately the system isn't fool proof. Go to the link above. When it asks you what your service is say "Rogers Personal TV." It will ask you for your name, email, phone number, mailing address, etc. Give it. Don't worry - for some reason the database can't tell if you are a customer or not. It will then give you the option of which prize you want.
I personally chose the GelaSkin. It has the highest value and I have an ipod touch. I did it twice with two different emails.
So thank you Rogers, for $30 worth of Gelaskins. I may not be a customer, but I am a very happy non-customer! :-)