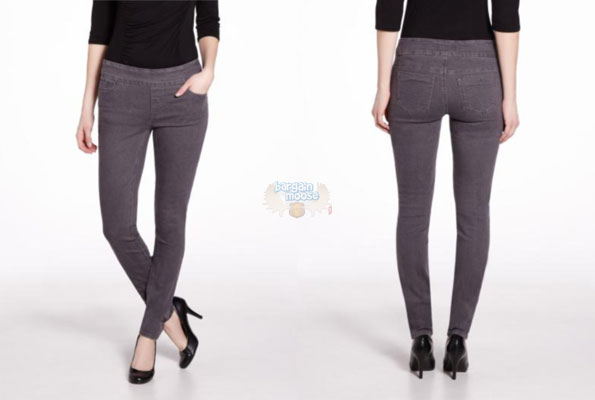 Reitmans' Summer Sale is on with plenty of merchandise starting at $9.99, just like these original comfort jeggings. They were originally $46 but can now be yours for just $9.99. Once you click on the link below, you will be taken to a page with a couple of other Original Comfort pants and the jeggings are located on the second line.
Jeggings are definitely my kind of jeans! They look like jeans but are actually leggings. For added comfort, these ones don't even have an annoying zipper and button. Instead, they can just be pulled up and that's it, you're ready to go!
Plus, these jeggings are 98% cotton! If you read my Parasuco post yesterday about the 9Parigi men's sweater that is on sale for just $38, then you will remember that clothes made entirely from cotton are far superior to those made from polyester. For these jeggings, however, it's actually good that they're not 100% cotton and have 2% spandex as it adds elasticity to the material, thus giving it a denim appearance but legging feel.
In the overview of these jeggings, Reitmans recommends getting a smaller size for a snugger fit that will hug your silhouette, but if, like me, you have a couple of pesky pounds that refuse to go away, then that's not a recommendation that I suggest following. Although, another alternative would be to measure your waist in relation to Reitmans' size chart.
There are plenty more items to choose from at a fraction of the cost with Reitmans' Summer Sale. I also spotted the casual short shorts down to just $14.99 instead of their original price of $36. They come in either a seattle grey or chino beige and just like the jeggings above, are also made of cotton for the most part (97% cotton and 3% spandex). Do be warned that these shorts are rather short, just like the name implies, but there is nothing wrong with flaunting those curves this summer! ;)
I'm actually really tempted to get the Hyba racerback bra as it's on sale for just $6.99 (reg. $24) and is available in either pink or black. Although I wouldn't be comfortable working out in it just yet, it would be perfect for breastfeeding as the strap can easily be slipped off! Even better is that it's designed to keep the wearer cool and dry!
Shipping is usually a flat rate of $7.50, but for a limited time, Reitmans is also offering free shipping to all orders that amount to $100 or more.
(Expiry: Unknown)