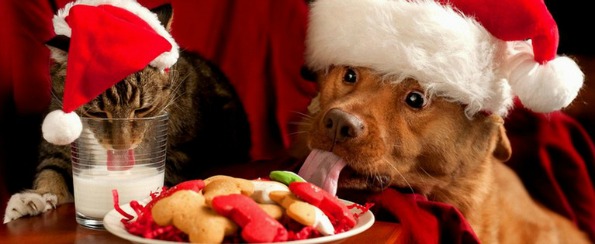 Everyone I know who owns a pet ends up shopping at Petsmart Canada. It is just one of those things you do like going to the grocery store. They are THE pet supply store in Canada. They just extended their Cyber Monday sale until Wednesday, so you can get $5 off $30, $10 off $60, or $20 off $100 when you place an order and pickup in store. With up to 50% off food, accessories, supplies and more - I think this is a pretty good offer.
We love our pets and we want to provide for them. Reduce the cost of owning a pet by combining deals at Petsmart Canada. My cat needs a new scratch post and you know how expensive those can be. This Grreat Choice Perch & Climber Cat Tree is currently on sale from $76.99 down to $61.59. With the extra $10 off applied at checkout, the stand comes down to $51.59. I like this tree because it has two platforms and four scratching posts.
This Christmas, do not forget your four-legged friend. Buy him or her some Christmas gifts too to keep pouch happy and out of the Christmas wrapping paper and ribbons. Try a bag of Pet Factory Chip Rolls Beefhide Dog Treats (20 rolls) on sale from $19.99 down to $16.99. Pick up two bags and you will get an extra $5 off.
I am sure you are planning on decorating the Christmas tree, but have you considered decorating your cat for Christmas? This Whisker City™ Pet Holiday "My Ugly X-Mas Sweater" Cat Sweaterwould be perfect for a festive cat. Originally $14.99, it is now on sale for $10.49. My cat actually hates wearing sweaters.
Perhaps a new toy is in order for your dog. this  Toys "R" Us® Pets Fetch N' Treat Interactive Dog Toy is a cool little toy that teaches your dog to play fetch. Each time your dog drops the ball in the toy, he is rewarded with a treat! Originally $34.99, this toy is now on sale for $26.24. If you want an extra $5 off your order, then add on the Top Paw™ Pet Holiday 4-Pack Comical Face Ball Dog Toy - Squeaker on sale from $5.49 down to $4.39. It is just like saving $10 and getting the pack of balls for free. :)
Shop these and more great sale items at Petsmart Canada. The discount will auto-apply at checkout.
(Expiry: 2nd December 2015)