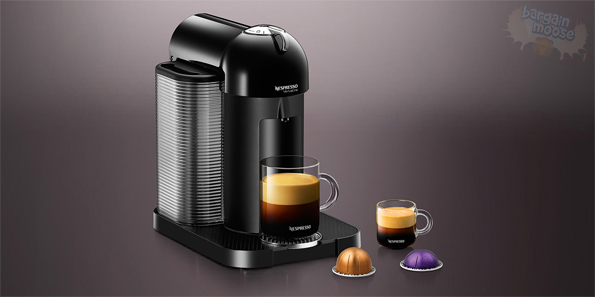 Here's a superb deal for the coffee-loving Moosers! There's a great coupon code available which you can use online at the Nespresso online store. If you add 300 or more of their VertuoLine coffee capsules to your shopping cart and apply the below coupon code, you will get a FREE Nespresso VertuoLine coffee machine, worth $299!
Click here to order your deal now @ Nespresso.com
CouponCode: vertuoflash
Discount: Free black VertuoLine coffee machine
Terms: Order 300+ capsules
Expires: 30th June 2015
All you have to do is place 300 or more VertuoLine coffee capsules in your cart. They cost $1.10 each from what I can see, so this means that you will be spending $330 on the actual coffee. You get free standard delivery when you order 200 or more Original Line capsules anyway, so shipping will be free too.
Once you do the above, apply the coupon code and you will see the free coffee machine appear in your shopping cart, like this:

You would have to be a true coffee-lover to want to order 300 capsules at once… but even if you only drink one cup of coffee per day, that's almost a year's supply of coffee.
Please note that I found the Nespresso site really quite awkward to use, so just have some patience when you are selecting your pods and placing your order.
Reviews
Here's a review of the coffee machine which I found on Vancitybuzz. They found the machine very easy to use, very functional, and easy to keep clean too. Over on Decorbychristine, she is self-admittedly in love with her Nespresso machine. Obviously at this price, it's a premium machine and not for the casual coffee-chugger.
Price Comparison
The black VertuoLine coffee machine actually retails for $299 on the Nespresso site itself. Over on Best Buy Canada, the basic machine is valued at $250, and over $300 on Amazon.ca. Hoesntly, I think this is an absolutely fantastic freebie with purchase! Nice deal Nespresso!!