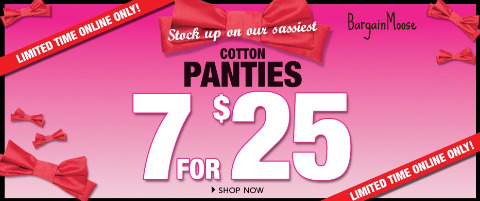 This sale just recently started at La Senza and it's a good one. You can get 7 pairs of cotton panties for only $25! That works out to a little over $3.57 a pair if you divide it out. For $25 you can have a different pair for every day of the week, and none of them have to match!
Keep in mind cotton panties don't have to be boring! La Senza is sporting some sweet and out-there styles for your butt:
Individually each pair costs $7.50 so you are saving $27.50, over 50%, on the 7 pairs.
Panties fly off the rack FAST at this sale, so buy early to get the greatest selection! This is an ONLINE ONLY sale.