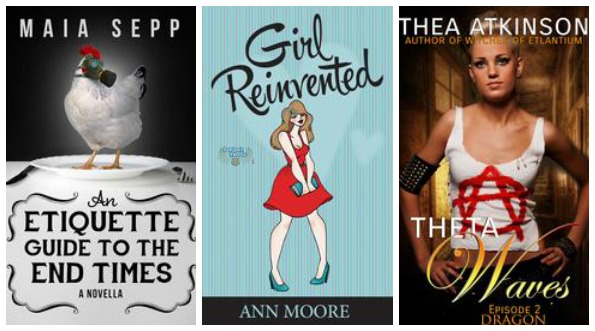 We sometimes see 30% coupon codes out of Kobo, but rarely do we see anything more. Today we have a 50% off coupon code for you to relish and a few smaller ones for other books in case you need more variety.
Click here to shop coupon qualifying books @ Kobo now
Expiry: 20th October 2014
Each coupon listed above has a link taking you directly to the books that qualify for that coupon code. I have tested these coupon codes and the do work so if you are having problems applying them, make sure you are in the right books section. You can only apply each coupon once per account. That means I can get one book for 25% off, one book for 35% off, and one book for 50% off this weekend.
Of course, I went straight for the 50% off section. There are plenty of romance novels in this section if you love that kind of thing. I would read them but my husband would never get any peace! I did find two cool books in this section that raised my interest.
An Etiquette Guide to the End Times Was $2.99 | After coupon $1.49
Granted this is a novella, but it still classifies as a book and sounds like it would be a fun read.
There aren't any zombies (yet), but the world is still at the brink of destruction: It's 2028 and global warming has led to rising oceans, crazy weather, and resource scarcity. On top of that, someone just turned the Internet off. Seeing as how it's humanity's last chance to turn things around manners are, understandably, a bit frayed.
I love the part about the internet being turned off, now that would be a nightmare! There are also chickens in the book... and I have a friend who loves chickens so I would think fondly of her while I read it.
Girl Reinvented Was $6.99 | After coupon $3.49
Probably a million girls have been in the place of the lead character in this book. Embarrassing situation and you wake up to find you do not have much in life. Family is so-so, few friends, no dreams, no romance. What is a girl to do? This one decides to reinvent herself and test the boundaries. I get where this character has been and totally want to read this book.
For these and future Kobo coupon codes, visit the forum.