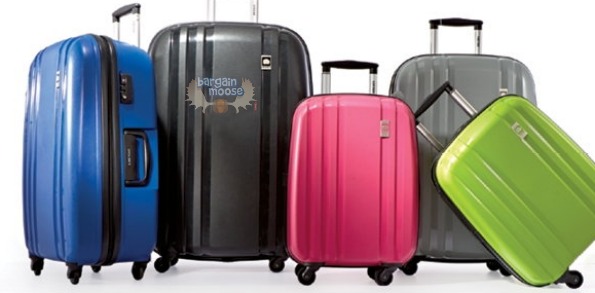 Hudson's Bay has one of their most popular events back on and they have some pretty incredible deals to check out.  Bay Days is back and for a limited time only, you can save up to 75% on luggage.
With all of the new rules on luggage weight and sizes for the airlines, this is the perfect time to upgrade your old luggage to be a more efficient traveller.
One of the great deals I found with this sale was on this Travel Pro20 Hybrid Case that was priced at $315 and is now priced at $94.50. I love how sleek and stylish it is and even though it looks compact, it has a ton of space for all of your travel items.
I also really like the look of this Samsonite Orchard  24 Spinnerthat was $400 and is now on sale for just $100.  That is a whopping 75% off the regular price.  It comes in three different colours and they are all the same price and all currently in stock as well.
If you are looking for a set, you might want to check out this Samsonite Phoenix Set that was $570 and in now on sale for $228. They both have spinner wheels that allows for 360 degrees of rolling.
As you can see above, even though the sale states up to 70% off online, I found deals even better than that.  That is one of the reasons you always need to do your research.
I have a few tips for you that will help you pick the perfect luggage for your needs.  First things first, try not to pick black.  For some reason, everyone gravitates towards the colour black when buying bags and luggage and that makes it harder to find yours at the luggage rack and also makes it far easier to lose.  I have heard of so many stories where people have grabbed the wrong bag because they had a black bag and they all pretty much look the same.  You don't have to get wild with the colour or design, I would just stay away from black.
Secondly, chose something that is a lighter weight.  There are a lot of restrictions now for weight so lightweight and durable is the way to go.  Lastly, wheels are sometihng to consider.  Most luggage does have wheels but there are some trendy ones that don't.  They are a must when travelling and help you in so many ways.
You will be able to get free shipping on your orders of $99 or more.
(Expiry: unknown)