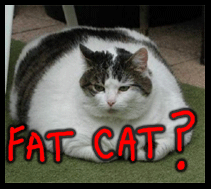 Taste too much turkey over the holidays? Crammed in too much cranberry? Pigged out on too much pork? Well, we've come well past the stage for New Year's Resolutions, which never work anyway. How about joining WeightWatchers online? They're doing a special offer right now, giving 25% off their membership fees.
You should see the discount activated by the above special link.
OK, I'm sorry if my title offended you… but I'm just trying to attract your attention! Did it work?? You're not a fatty. I was joking. Take it to bed, not to heart. :p
I'm starting my yoga classes again tonight; I've not been there in more than a month, over the Christmas holidays. I've started to get a flabbier belly, so I really need to work on it! I reckon I'm going to be pretty stiff tomorrow. Depending on what exercises they do, different parts of me will be sore for days. Most likely my abs though :D
A friend linked me to an interesting article recently on "anti gravity yoga!" I don't think this fad has come to Canada yet, but I'd sure like to give it a try!