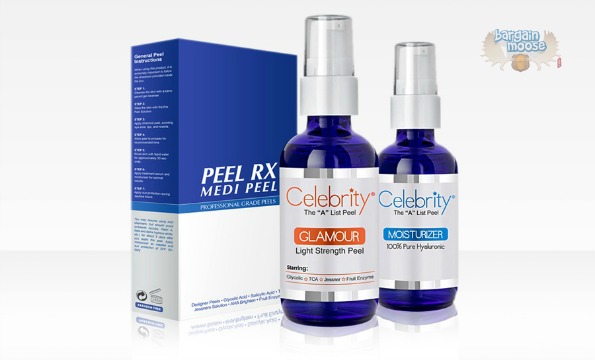 Get the Celebrity Peel & Hyaluronic serum for only $18.99, an $89 value at Groupon.
I wanted to blog this deal because when I was price comparing to see if it was a good price (it definitely is), I found a ton of great reviews for it. Although I don't see it offered at many Canadian retailers, I have to wonder if this is a diamond in the rough. Maybe it will become something you'll tell your friends about.
It is an anti-aging formula made with glycolic and salicylic acids that dissolves dulls and aging skin cells, smoothing out your skin and making you look younger. It is a gentle formula that needs no recovery time, but still produces the desired results. The moisturizer helps keep your skin hydrated, especially after the peel. This stuff is similar to what you'd get in a high-priced medi-spa, although it is gentle enough for first-time users.
My skin is getting older and duller, I hate to admit and I'm really considering this product. This review almost has me there:
I have done four Celebrity peels, one every two weeks, and the results have been AMAZING!!!
I've done series of peels through the derms before, mainly glycolic acids, and this is even more powerful,
the first treatment I only left it on for four minutes, and was amazed how powerful it was, I'm now up to ten minutes, a little redness and flaking for a few days to reveal smaller pores , more even skin tone, and the age spots on my nose are almost gone!!! You can also layer the product to even go into Deep peel territory.
Shipping is $4.99.
(Expiry: 10th October 2013)