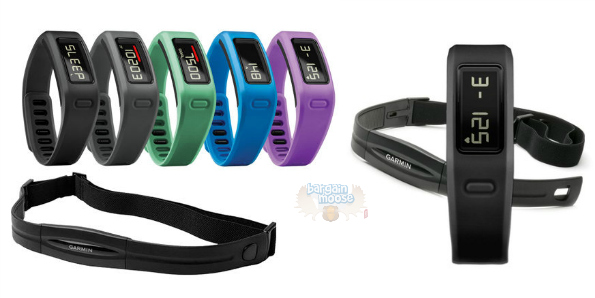 Shop.ca has discounted the Garmin Vivofit Fitness Band with Heart Rate Monitor from $200 down to $119.99. Use one of these Shop.ca Facebook $20 off $50 coupon codes to bring the band with monitor down to $99.99 with free shipping.
When price comparing the Vivofit Fitness band and heart rate monitor, you must be careful to make sure the package you are price comparing with actually includes the heart rate monitor. The band can be sold without it but you will not get the heart rate function. I price compared with several different stores to make sure this was the best deal.
The cheapest with monitor bundle on Amazon Canada is $142.89 (slate, black, or teal). Other colours can cost up to $20 more. Costco Canada has the bundle priced at $149.99 for any colour. Staples Canada is selling the Vivofit with monitor for $164.93. Altitude Sports was the highest at $189.99 for the duo.
Shop.ca's sale price is better than any of the other prices I could find and that is before you apply the coupon. After you apply one of the Facebook coupons, then the price undercuts all other retailers by $40 minimum.
I actually found this deal when my mother messaged me about wanting to buy a Fitbit Charge HR. She wanted 24hr a day heart rate monitoring. The Fitbit Charge HR sounded like it would be the ideal match, but I discovered some problems. First, the Fitbit Charge HR cannot handle water. The Garmin Vivofit Fitness Band is water resistant to 50 meters. That means a quick dip shower will not destroy your investment.
Furthermore, other devices are pretty accurate measuring a resting heart rate, but that accuracy will drop when you are more active. Because the Garmin Vivofit Fitness Band uses an external heart rate monitor (included) that positions over your heart, the monitor is far more accurate.
This monitor also has everything else you would want in a fitness gadget. Like others, it records and displays steps, calories, and distance. Based on your activity level, it creates personalized daily goals. Throughout the day, it will remind you to get moving. The Vivofit features wireless sync and has a 1+-year battery life. There is no need to pull it off and charge it every five days. In addition, this device monitors your sleep stats - my favourite feature and the reason I want one of these.
(Expiry: Unknown)