If you have a cat, you know the destruction that may come with it. These soft nail caps can be glued to your cat's nails to prevent scratches, destruction and more. They are also much more  humane than declawing your feline friend. You might spend up to $25 on these nail caps at your local pet store, but if you purchase the Forever Love 20 pieces Soft Pet Nail Caps for Cat Claws, you will pay as low as $4.50. Shipping is even included!
There are a variety of colours available for these nifty little cat nail caps, so choose the best suiting for your feline friend. The sale prices range from $4.50 - $4.80 instead of their regular price of $12.26, which is still much better than the regular price at pet stores. From pink to blue, your cat will be looking stylish in no time. These cat caps by Forever Love are great because they will prevent any damages to furniture, curtains, and more as well. The adhesive glue is included with these which is great, I don't know where else you would be able to purchase that. With my personal cat, Iris, I find that the caps last about 2-3 weeks before they start to fall off. They fall off one at a time and I usually reapply them after cutting the nail. They have saved my furniture and suede chairs that is for sure.
I added a photo of my cat wearing her purple and pink nail caps at the bottom of this post. We blurred her face for privacy purposes, hehe. Here are the colour options and prices available for these Forever Love 20 Pieces Cat Nail Covers:
There are quite a variety of colours available, but the pricing on other colours seems to increase in price. Just be sure to pay attention to the sizing before you make your purchase. My cat is a six month old Siamese and wears a size small. I would normally pay $18 for the Kitty Caps version at PetSmart, so this is a great price and I will definitely take advantage. Also keep in mind that these items are not shipped by or sold by Amazon, and they could take about a month to get to you.
We don't normally write about Amazon marketplace sellers here on Bargainmoose unless it is an interesting or hot deal, which this is. There are two different sellers, depending on which colour you choose. The sellers' ratings aren't amazingly high, but you're spending less than $5 including shipping here, so it's not a huge risk to be taking. I think the sellers get low ratings because the products probably ship from outside Canada and take a while to be received.
You will even get free shipping on your purchase of these Forever Love 20pcs Soft Pet Nails Cat Claws, so dig in! There is no telling how long this deal will last or how long quantities will last, so be sure to snag it quickly.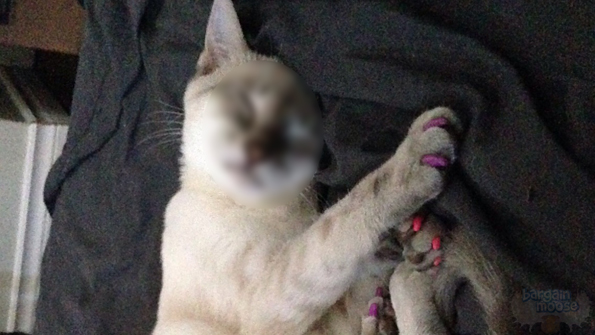 (Expiry: Unknown)