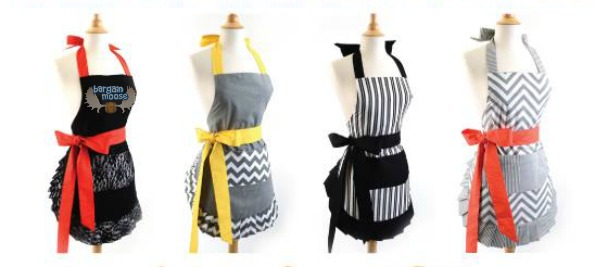 With such a sweet exclusive coupon, we had to tell you about it immediately. Bargainmoose has a coupon for 50% off your purchase at Flirty Aprons and we are the only ones who have this coupon. Can you say sw-eet?
Click here to shop @ Flirtyaprons.com now
Coupon Code: MOOSE50
Discount: 50% off
Expiry: 14th March 2014
You heard that right, half off your purchase at Flirty Aprons and it is all because of Bargainmoose. Because this company is American, and ships from the U.S., all prices are in USD and you will have to pay duties and fees, but you pay them at time of purchase to save you the hassle of having someone banging on your door asking for money. I don't know about you, but I've had enough of that.
These aprons are really gorgeous, and personally, I'd love one for Mother's Day. I don't have an apron so I tend to just wipe my hands on the back of my pants, which makes for some pretty curious stains. I could save my clothes if I wore an apron and because these pieces are their own fashion statement, why wouldn't I want to? This year at Christmas, my mom had on a gorgeous damask apron and when she took it off, she had a fabulous outfit underneath. It is almost like having two sets of clothes for the day - like a fashion show.
These aprons are not just for women either, there are also men's aprons and kid's aprons. I love the thought of getting matching mom and daughter or father and son aprons. I want to teach my boys to cook this year, and this would make a fabulous present to introduce them to the culinary world.
My favourites (and it was hard to choose):
Shipping and duties came to about $15 for one apron and for three, so it is almost worth it to get as much as you can.