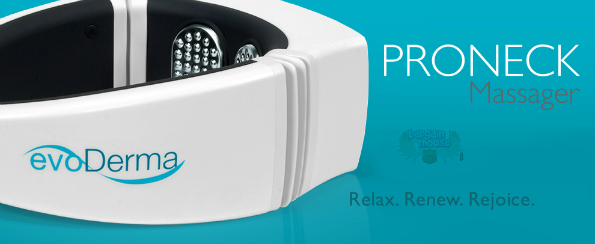 **UPDATE: This coupon currently stacks with code 'erica' - for a total of 42% off! Thanks Mooser Mayuri!**
This is actually the first time we have ever had a dedicated evoDerma post, so take some time to check this Canadian website out. evoDerma sells hair removal and anti-aging technology. They also sell accessories for those machines as well as personal massagers. Their tools tend to be pricey, but they are investment pieces. Currently, evoDerma is offering 20% off site wide, excluding accessories.
Click here to shop @ evoDerma Canada now
Coupon Code: MOMDAY
Discount: 20% off
Expiry: Unknown
Apply this coupon code right on the product's page instead of waiting to checkout.
I am not currently interested in hair removal or anti-aging, but I am always up for a good massage. The PRONECK Massager is quite the tool to relax tense and sore neck muscles. I suffer from chronic migraines and a lot of the pain in my head comes from tension in my neck. I actually expected this machine to be several hundred dollars. Thus, I was presently surprised that it retails for just $159. After coupon code, the massager comes down to just $127.20.
One reviewer said:
One of the best purchases I've made for myself in a while. It does everything that it says and feels amazing!!!! I especially love it for how easy it puts me to sleep - it relaxes me so much everytime. The heating part is especially great!
I guess it is never too soon to start with anti-aging products. After all, you still want to get ID-ed when you turn 30, right? (On a side note, I am 29 in less than two months and totally got ID-ed a week ago). The NOOME Anti-Aging Motion is an affordable solution for signs of aging. If you are not ready for crow's feet, fine wrinkles, and more... then try out this little device. Originally $89, the device is now on sale for $71.20.
One reviewer said:
I have been using NOOME now for a few weeks and I love the results . My skin instantly looks refreshed and healthy! I can't wait to see the effect it will have on my wrinkles.
I actually think the NOOME would make a nice Mother's Day Gift for women concerned about again gracefully. There are also a couple hair-removal tools for sale, but the cheaper one (Lumi+) is already sold out. The other one costs a pretty penny.
All orders at evoDerma qualify for free shipping.