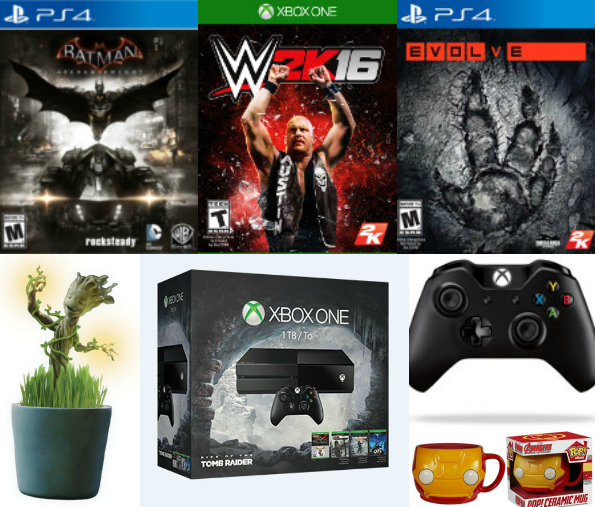 **Bump: The EB Games Boxing Day Sale is now live**
EB Games has released their Boxing Day flyer full of great deals on video games, consoles, memberships, and more. These deals will start December 26th with most deals being available online. Select deals are instore only - and those are visibly marked in the flyer.
The top deal of the entire flyer has to be their promo on the Xbox One. EB Games is offering $50 of Xbox One 1TB Bundles. Originally $449.99, they are going to be on sale for $399.99 - that is $50 off. In addition, you will receive five free gamesworth $180! In total, that is $180 extra stuff and $50 savings - a pretty hot deal and the best I have seen on the 1TB models.
There are plenty of other deals. A huge array of games will be 50% off including:
Some older games will be discounted even more! EVOLVE for the Ps4 & Xbox One will be on sale from $39.99 down to only $9.99 each. Final Fantasy Type-0 HD will be on sale from $44.99 down to $19.99. I also like this deal on Mad Max for both consoles. originally $69.99, they will cost just $29.99. This is just part of a huge game blowout sale including games for all consoles. If you want a new game or two, then this is the sale you want to shop.
There will be plenty of other deals for all your needs. Most Xbox One consoles only come with one controller. Get $15 off an Xbox One Wireless Controller - only $49.99 during Boxing Day.
There are also some great geek toys that will be on sale as well. These Pop! Home mugs are going to be just $9.99, down from $13.99. I adore this Guardians of the Galaxy: Glow and Grow Groot that will be on sale from $29.99 down to $19.99. This has got to be the cutest little thing ever.
One of those in-store only deals I mentioned before, would be the Xbox 3-Month Gold membership on sale from $24.99 down to $14.99. There will be more exclusive in-store deals as well including recycled games (BOGO 25% off) and five for $20 games as well. These are generally for older consoles like the PS3 and the Xbox 360.
All these deals start December 26th and run for a few days only. I recommend being on early to get the best stuff. Shipping is free on orders of $25 or more. under that minimum, it is just $4.95.
(Expires: 31st December 2015)