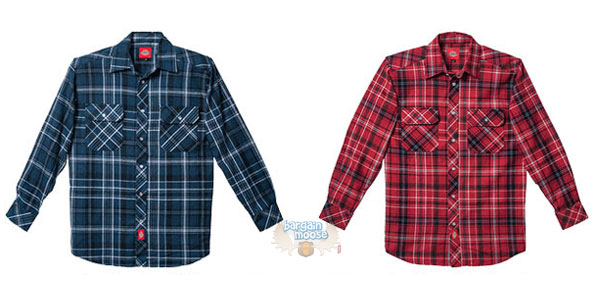 In this weather, flannel shirts are the way to go, especially for those of you who work outside. Dickies is currently offering 50% off all flannel shirts with the code below. Originally priced at $37.50, you can now get them for just $17.50.
Click here to shop for flannel shirts @ Dickies.ca now
Coupon Code: FLANNEL50
Discount: 50% off flannel shirts
Expiry: 9th November 2014
To take advantage of this promotion, you have the choice between the following two flannel shirts:
Available in a couple of colours, both come down to just $17.50 with the coupon code from an original price of $34.99. Both of these are also nearly identical. The only difference is that the long sleeve button flannel shirt doesn't have "spread collar" listed in its description but judging by the picture, it does have it. So, it's up to you to judge!
Other than the potential difference in the collar, both are made from a heavy weight double pre-shrunk flannel material and snap closures. My hubby actually bought this same shirt a couple of weeks ago for wearing outside and at 50% off, it's definitely well worth it. Dickies is known for its durable clothing and this one is sure to last a long time, especially since it's made from 100% cotton.
Since shipping is only free on orders over $75, I suggest you check out the other promotions going on at Dickies right now but keep in mind that you can only use one coupon code per order. If the fleece shirt mentioned in this post isn't to your liking and you have spotted something else, then make sure to use the Dickies promo code: FAN20 to get a 20% discount on any order. The only hitch to this code is that it may only be used by first-time customers.
Men's fleece hoodies are also currently $10 off with no required coupon! The thermal lined fleece hoodie on sale for $42.99 - $49.99 (reg. $52.99 - $59.99) would be great to wear outside as it has a thermal lining in both the body and hoodie parts. Even cooler is that the pockets also serve as hand warmers. I also spotted the quilted bomber jacket on sale for just $37.49 - $41.24 (reg. $49.99 - $54.99). That's another Dickies item that my hubby has, loves and wears every day to work! It's warm, durable and easily machine washable.