Davids Tea has some of the sweetest teas you can imagine. Spend $100 on tea and accessories to receive a free Tea for One set worth $22.50.
Click here to shop @ Davids Tea Canada now
Coupon Code: TEAFORONE
Discount: free Tea for One Set
Expiry: 5th April 2015
You DO NOT need to add the Tea for One set to your cart. It will automaticly add to your cart when you apply the coupon code. Combine this freebie with sale items for the best deal overall.
My partner just received his order of 250 g of Sleigh Ride. While it is not one of my favourite teas, it is a bold fruity tea with kernels of popcorn. I love the way popcorn adds an interesting flavour to tea. The 250 g bag of Sleigh Ride is currently 40% off. Originally $37.50, the tea is on sale for $22.50. Into the cart it goes.
Do you love eggnog? Then pick up these gorgeous Eggnog tea on sale for 50% off its original price. The 250 g bag of eggnog was $43.50, and is now on sale for $21.25. This tea features white chocolate and any tea with chocolate in it deserves a place in my tea drawer.
Did you know that Davids Tea makes candles? I am pretty stoked about these tea-scented candles because I like the smell of Davids' teas even more than I like the taste! This Forever Nuts candle would be a favourite of my partner because he loves that tea. I think it was one of the first cans of tea we actually finished - though Birthday Cake is a close tie. originally $19.50, the candles come down to $11.70 in my cart. Pick up Santas Secret as well.
With so much tea, you need a way to take it with you when you go out. Choose from the Snowy Village Stainless Tumbler or the Birds Snowflakes Stainless Tumbler. Each originally retailed for $14.50, and comes down to $8.70 in your cart.
GLITCH
Now, I found a glitch with this coupon code. Once your cart totals $100 or more add the coupon code and the tea pot will be added on for free. You can then remove items from your cart - and the free Tea for One set stays.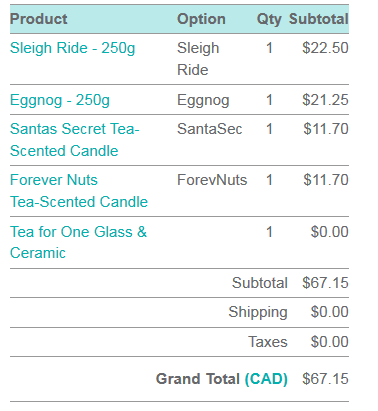 I managed to take my cart down to the mid $60 range, but if I went lower the tea set dissipated. I think it is calculating the $100 pre-discount (for sale items) - but only when you get up to $100 first, add the coupon code, then remove stuff from your cart.
Receive free shipping on $50 or more.