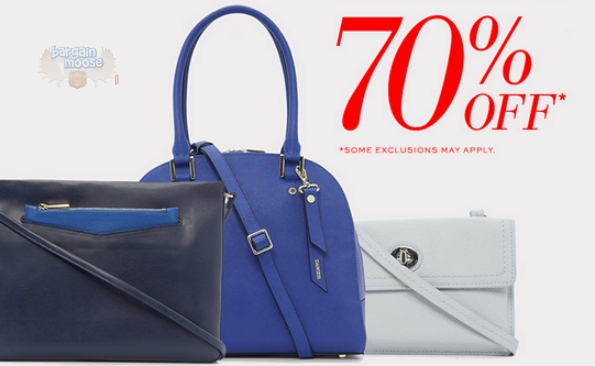 Danier Leather has been one of my favourite places to shop (on Boxing Day) for many years. I love their leather jackets and I find the leather quality good for the price. Now that they have an online store, I can find some of the same deals during other times of the year. Danier Leather has discounted the RAE Pebbled Leather Clutch from $199 down to just $59. As the free shipping minimum is so high ($150) you will pay just $8 for expedited shipping. Thus, your purse and shipping costs totals $67.
This purse is 70% off its original price, which is a nice discount for our Moosers. The RAE purse is made of pebbled leather with a twill lining. The purse is accented by light gold hardware and a front wall gold chain detail. There are two zip closures and a magnetic closure compartment in between them. For organization, there is one interior pocket and three card slots - perfect for a night out. Carry your license, credit card, and healthcare card.
Essentially, this is the perfect evening out purse to keep your essentials at hand. I have also found I hate carrying a purse in the summer, therefore I downsize to carrying only my essentials. This purse measures 9.5" wide by 6.25" high by 1.38" deep.
The purse comes in two colours: black and latte. Both are neutral colours that will match with almost any wardrobe choice you make.
There are a few other purse deals at Danier Leather, but this offer takes the cake as for discount. However, if these bags are not your style then shop some of the other discounts. This Coco combination leather crossbody would be my next suggestion. The purse was $149 and is now only $59. Better yet, you have a plethora of colour and texture options. Black and crimson come in a nice sleek finish. Bone and taupe have a reptile skin pattern and lovely sheen.  I think either of these bags - the Coco or the RAE - would make an excellent addition to your wardrobe for the price.
Do note that the expedited shipping cost of $8 is a flat rate. You can buy as many items as you like and only pay that shipping costs once or receive free shipping on $150 order.
(Expiry: unknown)