Monday brings new deals at Costco! Here are the best Costco deals for Costco East locations and these offers are valid from August 8th through August 14th, 2016.
These prices will be valid at Costco locations within Ontario, New Brunswick, Quebec, Newfoundland, as well as Nova Scotia.
Costco also displays their weekly coupons online. Keep in mind that any prices can fluctuate from store to store. The store's pricing takes precendence over our listed prices. You will also want to know about the secret Costco shopping tip I mentioned last previously.
Make sure to join the Costco Canada Eastern Deals Facebook group where you can post deals you've found, or find the best deals quickly. If you are a Costco West shopper - check out this week's Costco West Deals, and the Facebook group for Costco West as well.

So let's get the party started, shall we?
Back To School
$20 off HP Ink Cartridges
Food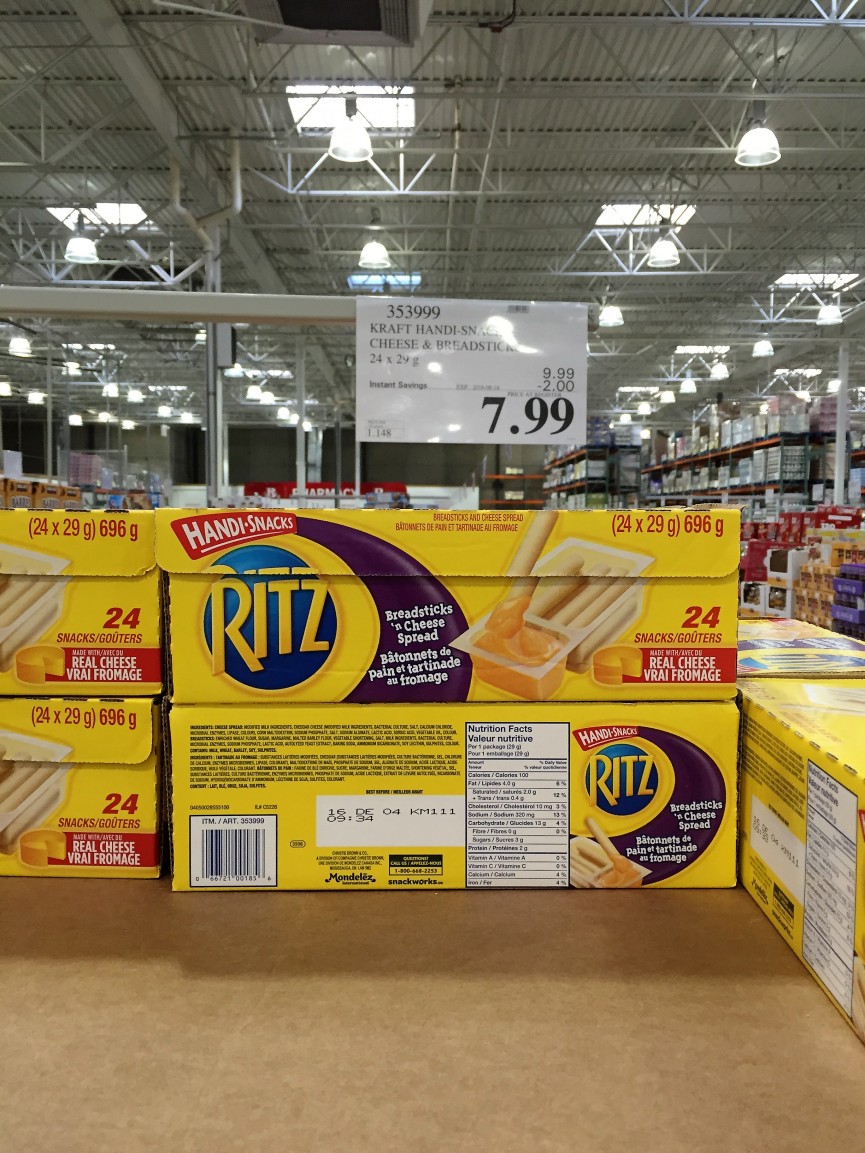 $2 off Kraft Handi-SNacks Ritz Cheese & Breadsticks 24 x 29g now $7.99
$2 off Skotidakis Tzatziki Greek Yogurt Dip now $6.89
$3 off Cappola Rosemary Ham 3 x 250g now $7.99
$4 off


$5 off Flinstones Complete Children's Vitamins 225 tablets now $18.99




$8 off Webber Naturals PGX Daily 750 mg 200 soft gels now $27.99
$4 off Opti-Free Replenish Contact Lens Solution now $12.99
$35 off the purchase of 4 select boxes of contact lenses
$30 off

the purchase of children's prescription Phoenix lenses when purchased with any frame




$4 off Caltrate Plus Calcium Carbonate 160 tablets now $15.99





$3 off Lil Critters Gummy Vitamins 275 gummies now $7.99




$4 off Iron Kids Omega 3 200 Gummies now $9.99




$3.50 off Holista Bee Propolis Antioxidant now $12.49




$8 off New Nordic Hair Volume 90 tablets now $31.99




$5 off All Greens Powder Berry Glavour 450g now $19.99




$8 off Claritin Allergy 10mg 120 tablets now $35.99

Household

$4 off Purex HE Liquid Laundry Detergent $13.99
$40 off Panasonic Telephone Call Block now $100.44
Samsung Blu-Ray Player $90.79




$7 off Finish Quantum Max Dishwasher Detergent 108 tabs now $17.99




$2.50 off Finish Dishwasher Cleaner now $8.49




$3 off Lysol Toilet Bowl Cleaner 4 x 946 ml now $8.49
$3.50 off Swiffer Sweeper Dry 80 Pack now $16.59
$3.50 off Swiffer Duster Refills Pack of 24 nowo $14.99

Pets

$3 off Liver Bites Product of USA 500g now $10.99

What deals did you spot at Costco this week?