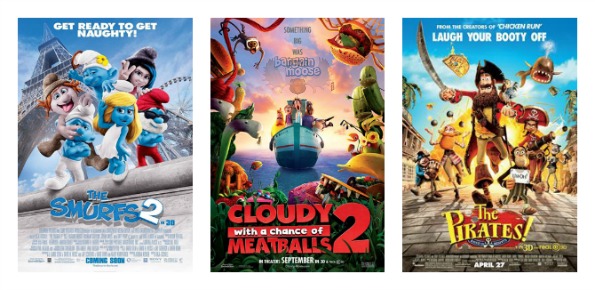 If you are looking for something fun and inexpensive to do with your family for the months of July and August, look no further than Cineplex Canada.  Cineplex Canada is offering family favourite movies for just $2.50 every Saturday morning at 11:00 am.
All of the family favourites are movies that have already been in the movie theaters and are coming back for a second showing. This time around however, instead of paying the full price for each ticket, you will pay just $2.50 per ticket. They have a great collection of popular movies they have brought back for us to see.
Here is a look at all of the great movies you will be able to see for just $2.50 for the months of July and August:
July 9th – Cloudy with a Chance of Meatballs 2
July 12th & 16th – Smurfs 2
July 19th & 23rd – The Pirates! Band of Misfits
July 26th & 30th – Hotel Transylvania
August 2nd & 6th – Mr Peabody & Sherman
August 9th & 13th – Rio 2
August 16th & 20th – Turbo
August 23rd & 27th – Epic
August 30th – The Croods
I have already watched a couple of these movies with my boys and they were great.  My boy's favourite would have to be Rio 2. We watched the first one together and they liked the second one even more.  Another good one is The Croods.  It was a great family movie that I would take my boys to see again in a heartbeat.
One of the ones on the list that I have yet to see but would like to is Smurfs 2.  It had some really great reviews and some pretty big names behind the voices in it.  I didn't get the chance to bring my kids the first time it came out but maybe it is better I waited for this lower price.
If you are the average family of four, the total cost for four people (kids and adults) will be just $10.  That is a pretty incredible deal. At that price, this would be a great idea for a kid's birthday!  Even if you had 10 kids to pay for, you would still be paying just $25 for a birthday party of 10.  I can't even get birthday supplies from the dollar store that cheap!
(Expiry: End of August)