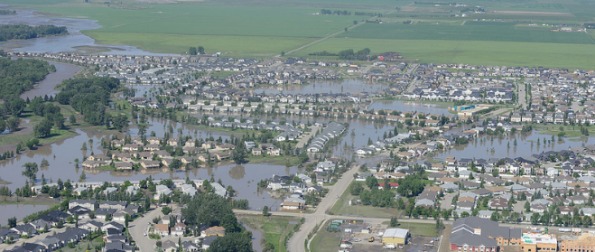 Last week, as most people already know, various places in Southern Alberta got hit really hard with flooding that has caused a huge disaster for the animals, the people, the businesses, the landscape, and environment of Alberta.  Many people have lost their homes to this flooding and they are not covered by insurance.  Generous people and businesses are helping raise money for these disaster victims in an effort to clean up and rebuild.
There are a lot of great businesses right now that are offering portions and sometimes the entire sale of items to go directly to the Alberta Flood disaster victims.  The staff at Bargainmoose want to commend those businesses and help get the word out for these deals so that if you are planning on shopping this weekend or in the near future, you will check out these deals first so that your purchases will go to a great cause.
I live in Calgary and have witnessed first hand how much it will take to rebuild our cities and towns.  I have also witnessed how generous and supportive that many Canadians have been to their fellow Canadians helping out where ever they can.  Businesses are also trying to do their part by donating proceeds of sales and I thought I would highlight a few of those deals.
Here are just a few awesome companies jumping in to support Alberta:
Tim Hortons: Head in and get your very own Alberta Rose donut, with 100% of sales from the $1 baked good going directly to Red Cross flood relief efforts.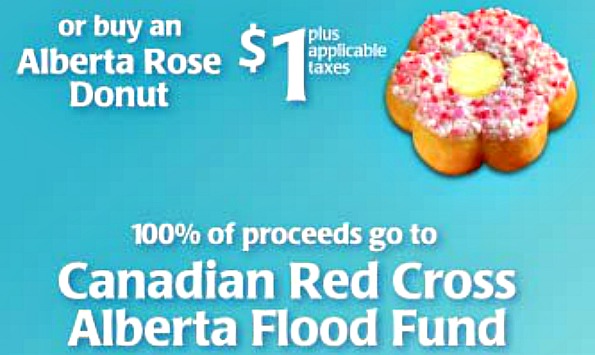 Boston Pizza: Buy any medium or large pizza on July 3rd and $5 will go to the relief efforts.  This is available at every Boston Pizza in Alberta. In addition, all money raised will be matched by Boston Pizza International Inc and Boston Pizza Foundation and will also go towards the relief and recovery efforts.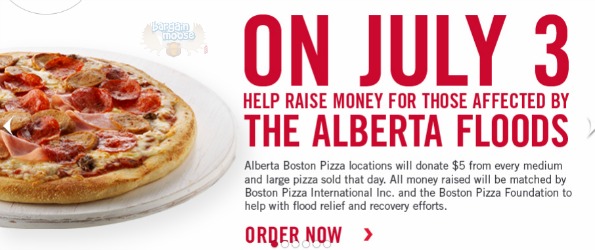 Calgary Stampede: Buy a "Come Hell or High Water" Tee and all proceeds from each shirt sold will be donated to the Canadian Red Cross Alberta Floods Fund.
Cobs: They will donate 5% of all sales on June 29th and 30th to Red Cross flood relief.
Crave Cupcakes:They are donating the proceeds from their Smores cupcakes to go to the Alberta Flood relief effort.  These cupcakes are delicious by the way.
There are a ton of local businesses in Alberta that are also trying to help out. Comment below if you have heard of any other businesses that are trying to do their part in helping out the Alberta Flood disaster.  You can also donate to the Canadian Red Cross if you would like to help out.
(Photo Credits to Land Force Western Area and Hunny Bunny 888.)