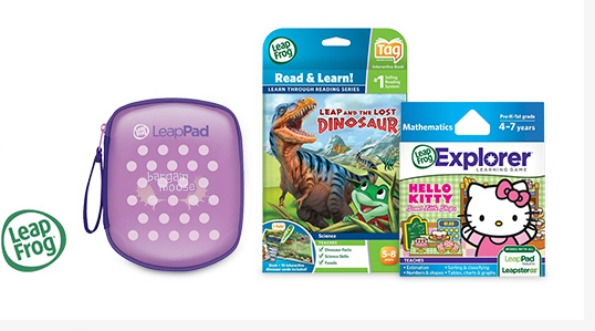 If you have a young one and want something educational for them to spend their time with, consider LeapFrog. They offer all education-based toys and electronics that kids want to use. Right now, Chapters Indigo has 40% off LeapFrog software and accessories.
My youngest son has a LeapPad. It was a hand-me-down from his oldest brother who now has a tablet. My youngest is too young for his own tablet, as he likes to fling things across the room from time to time, and he probably isn't quite ready for the technology it provides. The LeapPad is such a handy tool that is easy for kids as young as 2 to use. I find it the perfect time waster for times when he is stuck in his car seat (long drives) or a chair (waiting rooms, restaurants). I'm not a huge fan of using electronics to keep your kids occupied at times when they need to learn patience, but for certain times it is ok. For example, if we are at a restaurant that has little tolerance for kids, I don't mind using the LeapPad, or if we are driving to the cottage, that's a good time too. If we are at McDonalds or driving to the grocery store, the LeapPad does not need to come out.
Either way, the games are educational, so I don't feel like I'm wasting their brain with technology either. My son often plays a game that teaches him to create straight lines, which is so perfect for increasing his fine motor skills, which he'll need to write his name once he starts kindergarten. He finds it fun, so he doesn't balk at practicing.
The games are all on sale right now, from $29.95, down to $17.97 and Pixar Pals is one of my kids favourites. If you don't have a LeapPad, the LeapReader is a fantastic tool for helping kids read and write. It is almost $25 off, now only $35.97 from $59.95.
Shipping is free on orders over $25.
(Expiry: unknown)