I am tickled all shades of pink with this deal! Pick up two-years of hosting from Certified Hosting with a free domain ($10 value) for mere peanuts. This package retails for $190.80, but after coupon code comes down to $40.28 USD.
Click here to select your web hosting package @ Certified Hosting now
Coupon Code: IPAGE
Discount: 2 years for $40.28
Expiry: unknown
The steps are simple. First, click through the link above and under 'Pick a Provider', you select IPAGE. Once IPAGE is selected, push the button 'get this plan now'. As a free domain comes with this pack, you will get to choose your free domain or skip if you are going to import your own domain. On the next page you will see the place to put in the coupon code. Enter the coupon code and then your cart will look like this: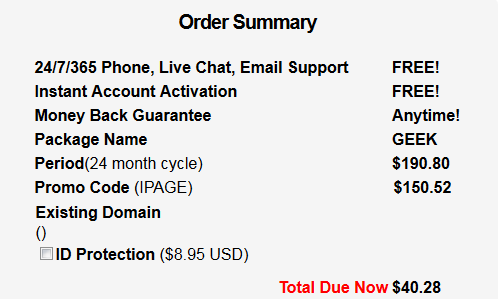 I run my own website and pay for hosting on a year to two-year basis. As far back as I can remember, this is the best deal I have ever seen on web hosting. Just ignoring the free domain, which has value, if you just divided $40.28 up by 24-months, you are receiving web hosting for $1.68 per month.
This isn't even the basic web hosting! This is the GEEK package which includes:
UNLIMITED Domains
UNLIMITED Disk Space
UNLIMITED Bandwidth
Right now I pay for a base plan, thus the thought of unlimited bandwidth and disk space for less than i pay now has me salivating. As the price for two-years is so low, I highly recommend the ID protection. It really annoys me that this does not come standard with websites but I think it is worth the extra money.
The geek plan regularly retails for $6.95 per month but is on sale for $3.49 per month with another coupon code. Even considering the same price, this deal with the IPAGE coupon is far superior - and shocking really. I am currently looking at when my current hosting package expires as this deal is too good to be true. I could import my current domain across to Certified Hosting and not have to pay $60 - $80 a year the next time I renew where I am at.
I know transporting a website across to a new host can be a real pain. I always suggest backing up your website first and also asking your domain for help if you have any problems.
For this and other Certified Hosting coupon codes, visit our forum.